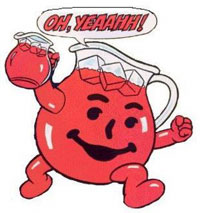 I don't even do very many, but I'm about burned out on blog memes. That being said, Phil tagged me with this one (and threw in a challenge about Kim and I LOVING to play tag and other fun kids' games) so, being all competitive and whatnot, here we go. It's the Starbucker meme, and it requires me to answer the following questions: 1) How full is your glass? 2) What kind of glass is it? 3) What's in the glass? and 4) Reasons for #1, #2, and #3.
1) My glass is 3/4 full.
2) The glass is actually a mug with Stinky on it.
3) It is filled with Kool-Aid. Oh yeah!
4) The glass is 3/4 full because I need room to blow bubbles with my straw. It has Stinky on it because I'm not above shameless self-promotion, especially as part of a meme that I'm not especially motivated by. It's filled with Kool-Aid because I enjoy the taste sensation of drinking a melted popsicle. (I also have a special place in my heart for Kool-Aid because for years, the mustaches that resulted from drinking it were my only hope at facial hair.)
That is all.
[tags]Starbucker meme, Kool-Aid, memes, Stinky[/tags]