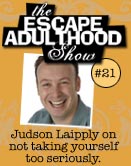 In this episode, brought to you from studio 203 in Madison, Wisconsin, we interview Judson Laipply, the creator of the Evolution of Dance, (the number one YouTube video of all time) about having fun and not taking yourself too seriously. We also share some warning signs that YOU might be taking yourself too seriously, talk about our new office, and how to get free Haagen-Dazs ice cream. Just click "Play" to listen to the show…
Show Notes…
• Check out Judson's web site, where you can watch him dance, and learn more about him and how you can book him for your next event.
• Six Signs You May Be Taking Yourself Too Seriously (by Liz Ryan – Wisconsin Technology Network)
• Seriously…Don't Take Yourself Too Seriously (by Travis Thomas – Spiritonthejob.com)
• Download the inaugural FREE issue of the Escape Adulthood magazine.
• Watch the new PSA video put out by the Cure Adultitis Institute. Share it with 10 million of your closest friends!
Win Stuff: You can win a $20 gift certificate to the Lemonade Stand by letting us know, "What was your favorite thing to do for fun as a kid?" Leave a comment!
Show Music: Coyote Sleeps by Ethan Elkind
Show Length: 48 minutes, 6 seconds
Shout Outs: Thanks to Judson Laipply!