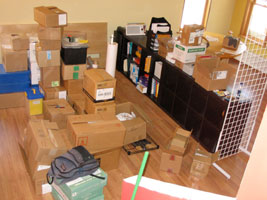 Wow. What a week. What a seven years.
That's about how long it's been since Kim & Jason was first published. (August 8, 2000.) Fast forward seven years, and we're finally almost moved in to our first office. It's been a long wait, and frankly, if I had been told it would have taken seven years before we'd be able to move into a new office, I might not have ever began. But the prospect of waking up every day with the hope that today just might be the day that something BIG happens has kept me going. Learning, experimenting, persisting, and working hard. Last Friday was the day something BIG happened; it was the day we began moving into our new space.
A week later, and all that's left is the details. Oh, and the Internet. (It's surprisingly hard to run an Internet-based business without the Internet.) I must say, it has been worth the wait. Our new office, located inside a freshly renovated 100-year-old home with skylights, hardwood floors, and vaulted ceilings…is gorgeous. And fun.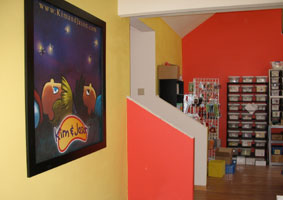 I'm tired, burned out, and my knee is not a happy camper, but I couldn't be happier. And even though it has taken seven years for this reallybigthing to happen, I have a feeling that now that we're at this new level, many more big things are just around the corner. And Adultitis is shaking in its boots.
I will have more pictures (and video!) once things get a little bit back to normal, but I'd like to invite any of you who are able to join us for an open house party on Saturday, August 11, from 1 – 4 p.m. The new digs are located at 315 S. Baldwin Street in Madison, WI (map). We're gonna have cotton candy and snow cones, and who knows what else. If you're in the area, stop by and say hi, and help us to celebrate a whole new onslaught of reallybigthings.
[tags]Adultitis, new office, open house, cotton candy, snow cones[/tags]