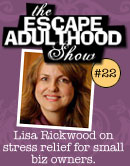 In this episode, brought to you from studio 315 in Madison, Wisconsin, we We interview Lisa Rickwood, author of "Escape The Pace: 100 Fun and Easy Ways to Slow Down and Enjoy Your Life." She'll share some ideas on how busy small business owners can stress less, while avoiding overwork and burnout. We also talk about e-mail stress, the little known origins of Play-Doh, and share a great solution for office anger management. Just click "Play" to listen to the show…
Show Notes…
• Check out Lisa's web site, Escapethepace.com, where you can check out her book, learn more about coaching opportunities, and discover ways to relax, get focused, make money, and have fun. Also, send an email to info@escapethepace.com to get a copy of the FREE report, "5 Types of Clutter That Hold You Back."
• Read Timothy Ferris's book, The 4-Hour Workweek
• News: Now, workers get 'email stress' (Times of India)
• Learn more about Kim's "You've Got Mail Cyber Challenge"
• Help us celebrate our seventh anniversary and we'll give you a $7 gift certificate.
Win Stuff: You can win a $20 gift certificate to the Lemonade Stand by letting us know, "What is something from your childhood that you still do today to escape?" Leave a comment!
Show Music: Coyote Sleeps by Ethan Elkind
Show Length: 58 minutes, 28 seconds
Shout Outs: Thanks to Lisa Rickwood and Sarah from Chula Vista!