There is something about the new school year which brings a healthy balance of anxiety and optimism for both kids and parents. This year will be even better than last year. There are still many unknowns and things out of your control, but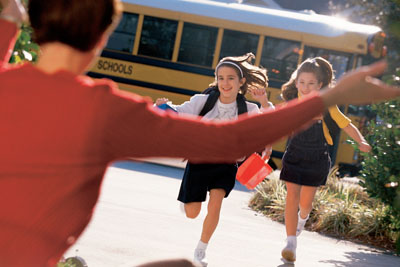 overall a fresh start is always a good thing. With this hope in mind I have five things you can do to prevent a stressful school year.
1. Do not over schedule yourselves.
2. Do not over schedule yourselves.
3. Do not over schedule yourselves.
4. Do not over schedule yourselves.
5. Do not over schedule yourselves.
The reality for most kids between the ages of eight and eighteen is that they are likely to contract some form of Juvenile Adultitis before they actually reach adulthood. The most well-intentioned parents unknowingly subject their kids to this condition by allowing the childhood years to be overscheduled, forcing their kids to grow up far too quickly. The Cure Adultitis Institute is seeing more and more cases of Juvenile Adultitis each year.
This is what happens when lives are too frantic, preventing time for free play, creative thought, and rest. The amount of homework students are expected to do seems to increase every year, along with the number of activities these same students are signed up for. Inevitably, they are spending less time in their family unit. In many instances the extracurricular activities are meant to help prevent Juvenile Adultitis, but more than not the overabundance is leaving kids feeling years older than their birth certificates state. It's just too much!
The answer to this is so simple, it doesn't seem like enough…
"Everything in Moderation"
Soccer is not evil. Learning to play the violin is not harmful to your health. Then you've got church classes, dance, boy scouts, and scholastic bowl. Did I mention chess and swimming classes? These are all very good things, providing well-rounded children. Kids who get an opportunity to experience the persistence and discipline required to learn an instrument and the teamwork and patience required to play on a sports team, will be better off because of these experiences, no doubt. The trick is in the balance of scheduling and prioritizing.
What inevitably happens is the following. Jacob has a few things a few nights a week and the two nights he is off his sister has something, creating for a crazy and unpredictable dinner routine almost every single night of the week. Realistically the family can only sit down to eat dinner together two or three nights a week. Not enough!
Families need to courageously take back the family dinner as a time of connection, conversation, and consistency for the family. I say courageously because it will not be without resistance. In order to make this shift work schedules may need to be shifted so that you can be home to have an earlier dinner. Certain extracurricular activities simply may not work, knowing that the times conflict with dinner more times than not. It's time to start saying no, so that you can say yes to your family.
Why is this important? Study after study is showing the direct correlation between the absence of family dinners and the likelihood that teens will partake in early sex, drugs and alcohol abuse, as well as increasing chances for eating disorders, lower grades, and thoughts of suicide. There are also connections showing that eating dinner together is the single best indicator for higher academic achievement for students ages 3-12. It's all about the consistency and check-in that happens at dinner. They may not say much when you ask them, "How was your day?" but the fact that you asked and you'll ask again tomorrow night at dinner is priceless.
It's time to have an honest look at your schedules and make some changes for the health and well-being of your family. Let's stop Juvenile Adultitis now before it's the norm.
I found this very cool tip from Mommymommy.com, and there are lots more where that came from, so check it out.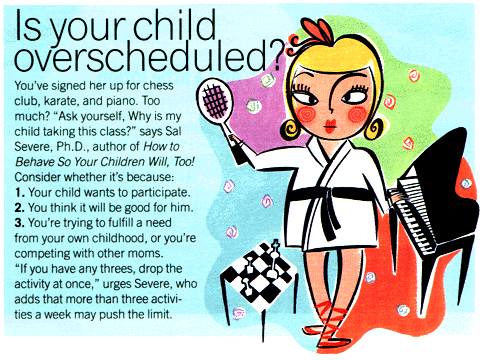 [tags]stressful, stress, school year, prevent, overscheduled, families, Juvenile Adultitis, Cure Adultitis Institute, parents, extracurricular activities, Mommymommy.com, family dinner[/tags]