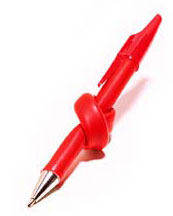 This from Minette, a regular contributor to the discussion on this blog:
They are continuing this entire stupid idea of banning all possible hits to self-esteem even in the corporate world. I work for a government agency and we do a lot of training. I've been told that I can no longer use red ink to correct my trainees' work because it would "hurt their self-esteem." I have to use green ink. I've gone ahead and done this like a good little girl but my first reaction was, "Life sometimes sucks. Get over it!"
Yet another example of Adultitis running rampant. If red pen hurts your self-esteem, I have a news flash for you: you need a new self-esteem. Kim also was forbidden from using red pen when teaching kindergarten.
Here's what I want to know: What happens when green becomes known as the evil and vicious self-esteem obliterating ink?
[tags]self esteem, red pens, red ink, grading, Adultitis[/tags]