At its core, Kim & Jason is all about helping grown-ups of all ages to slow down and Escape Adulthood, whether it's through a stress-reducing chuckle or a nostalgic reflection at a treasured childhood memory. But just as importantly, we are extremely passionate about making a difference in the lives of children as well. A good childhood is a precious thing, something every person deserves. We're committed to do what we can to help ensure that kids growing up today have wonderful childhoods to look back on tomorrow.
I've written before about DonorsChoose.org, a fabulous organization that offers a simple way to provide students in need with resources that our public schools often lack. Teachers submit proposals for real-world projects that they'd love to implement in their classrooms. Citizen philanthropists (that's you) can browse the proposals and can help make them a reality through their contributions. One of the cool things is that you get feedback from the kids and teacher on how the project went.
Kim and I have collaborated with DonorsChoose to set up a challenge page with a goal of raising $500 during the month of October. This challenge has a special focus on art, which is usually one of the first programs cut by schools looking to trim the budget, even though the benefits of art are numerous. Heck, if it wasn't for art class and a few dedicated art teachers, "Kim & Jason" probably wouldn't even exist. As a shy skinny kid growing up, art gave me an outlet for my imagination and helped build my confidence. I'm not sure where I'd be without it or the teachers whose passion and dedication were so amazing.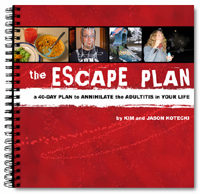 Please consider donating $10 or $20 or $100 to one of the best causes we've seen in a long time. In fact, here's an idea: for anyone who donates $50 or more to the challenge, we'll send them a brand new, hot-off-the-presses copy of The Escape Plan journal. It's not even available for sale on the web site yet, but it's yours (a $25 value) if you can part with a Mr. Grant. Make your pledge, and shoot us an e-mail with your mailing address and we'll send you your free book.