It's back to school week here in Wisconsin, which reminds me of how much the school system in this country stinks. Not the teachers (well, not most of them), but the system. It's broken.
I'm not exactly sure why school boards are run by people who don't know the first thing about running a school (having gone to school doesn't count), or how it's possible to spend almost $9,000 per student on education in this country (which has tripled since 1965, while national academic performance has not improved) and yet still want to throw more money at it. It shouldn't really surprise me, as anything run primarily by the federal government turns out to be a waste of money and a brilliant example of bureaucratic ineptitude. Adultitis in spades.
I think it could all be fixed, if — and that's a giant IF — the government would just step out of the way and let regular people with great ideas take over.
Case in point is DonorsChoose.org. This from their website:
DonorsChoose is a simple way to provide students in need with resources that our public schools often lack. At this not-for-profit web site, teachers submit project proposals for materials or experiences their students need to learn. These ideas become classroom reality when concerned individuals, whom we call Citizen Philanthropists, choose projects to fund.

Proposals range from "Magical Math Centers" ($200) to "Big Book Bonanza" ($320), to "Cooking Across the Curriculum" ($1,100). Any individual can search such proposals by areas of interest, learn about classroom needs, and choose to fund the project(s) they find most compelling. In completing a project, donors receive a feedback package of student photos and thank-you notes, and a teacher impact letter.
I love it. I love that teachers can ask for exactly what they need. I love that you can choose exactly where your money goes. I love it that you get feedback on how the project all turned out. Way cool.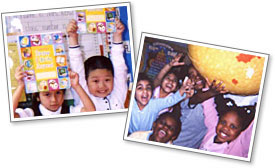 The government already charitably donates to the school system on our behalf (they're called taxes) but does anyone really feel confident that your local kindergarten class is any better off because of your contribution? With DonorsChoose.org, you can make a difference to a real group of kids that are either in your neighborhood or are looking to fund a project that is near and dear to your heart.
Think of the possibilities:
A tech geek could help a class get a much-needed video camera.
A publishing company could help middle schoolers develop a love for writing and become authors.
A sporting goods store could help a local high school team upgrade their equipment.
This idea is geared toward individual donors in an approach called Citizen Philanthropy, but it also offers an opportunity for businesses to step in and make a real, measurable impact in their community, above and beyond sponsoring the Little League team.
Since the project was launched by social studies teacher Charles Best in 2000, over $14,000,000 has been donated to over 600,000 students. I think many aspects of our overgrown government are messed up, but I still love this country because ordinary people with big dreams can still accomplish the extraordinary.
[tags]DonorsChoose.org, DonorsChoose, citizen philanthropy, school system, school board, taxes, American education[/tags]