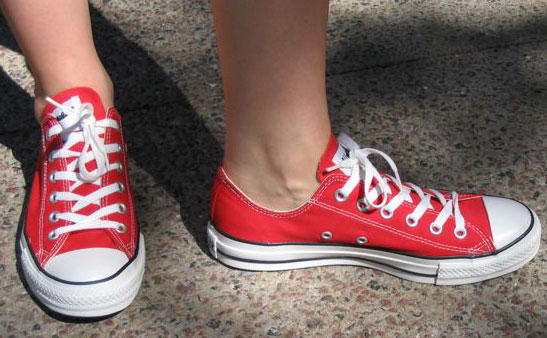 Recently during an Escape Plan TV episode I excitedly purchased a pair of red Chuck Taylor low tops. Love 'em! (Yeah, I know I have BIG feet.) It's just plain fun to wear them. But an unexpected free prize has proven to happen every time I sport these playful sneakers. Inevitably someone comments on them… every time. Perfect strangers are giving me the thumbs up, big cheesy grins, and sharing stories of their favorite pair of Chucks. It's almost like they are partaking in the fun as well. I honestly wasn't expecting this to happen, but it's turned into an insightful social experiment.
I love this quote…
Be eccentric now. Don't wait for old age to wear purple.
Why do we wait until we are retired to finally muster of the courage to be a little bold?
You've seen them… the smiling ladies in the big red hats (aka the Red Hat Society). They rock! It always brings a smile to my face to see a group of ladies all decked out in their purple and red. They are obviously enjoying life and surrounding themselves with other playful people… a great strategy for staying young.
What about you? Does your closet reflect your personality?
Even if you have a "dress code" in your 9 to 5, what about amping up the accessories… socks, shoelaces, jewelry, neckties, purses, cufflinks, etc.
Challenge #36 from The Escape Plan is "Accessorize your wardrobe today with a touch of childhood."
What can you do to add a little touch of playfulness to your attire?
If you "kick it up a notch," you will soon see just how contagious playfulness really is.
[tags] Chuck Taylor, fun, Escape Plan, accessories, playful clothing, Red Hat Society[/tags]