In our speaking programs, Jason and I share with our audiences about The Escape Plan. One of the challenges we highlight is #24: Outside the Lines: Figure out a way to add some color to your day in a new, unusual, or wacky way.
It's funny to think that something as simple as color can help cure your Adultitis, but it really can.
Here's a simple and wacky idea you can try today. Next time you are cooking, grab the food coloring and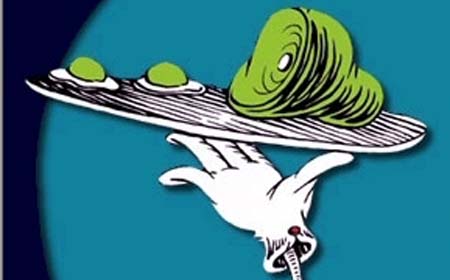 get a little silly (We're all aching for a little silliness!). This is how Jason accomplished this challenge the first time around. For breakfast he ate green eggs, drank red orange juice and had his Captain Crunch in blue milk. (seems chalky to me) You can see the picture here.
Dr. Seuss, an inspiration for Jason's breakfast choices that morning, had something to say about this playfulness.
I like nonsense, it wakes up the brain cells. Fantasy is a necessary ingredient in living, It's a way of looking at life through the wrong end of a telescope. Which is what I do, And that enables you to laugh at life's realities.
Something tells me Dr. Seuss may have been one of these rare individuals who lived an Adultitis-free life.
This past Wednesday evening we worked with a room full of stressed-out families and individuals at our speaking program and I shared the story about Jason's encounter with the food coloring. I mentioned that with Halloween coming up, it's the perfect time of year to do this. I challenged them to leave the food coloring on the counter for the next week and see what happens. How about serving up a meal of green meatloaf, purple mashed potatoes, orange creamed corn and black milk? YUM?!
On Thursday morning I received this email from a woman who attended the program with her daughter. She shared,
Just wanted to say thank you thank you. This morning I went to work dressed in my Halloween clown outfit! We had a great time last night. My daughter really enjoyed it also. So this morning when she went to school I made her lunch which included blue cottage cheese, orange milk and green cream cheese on her bagel. I can't wait till she opens up her lunch. I really needed last night. So, thank you again.
Later in the day I received yet another email from her.
To make the story even more funny… for my lunch I had taken the rest of the container of cottage cheese which did not contain the blue food coloring. To my surprise my daughter had also added blue food coloring to that container of cottage cheese without my knowledge. So I can't wait to pick her up from school today and ask her who put the food coloring in my cottage cheese! We sure are having fun with this.
How fun to make the colors a surprise!
I guarantee that you will instantly morph into your five-year-old self as you watch the color overtake the unsuspecting yummies.
We'd love to see what you come up with, so feel free to email me pictures of your colorful edibles.
[tags] food coloring, Dr. Seuss, Green Eggs and Ham, The Escape Plan, playfulness, silliness[/tags]