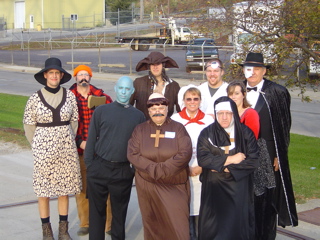 Recently I shared about some Halloween plans that were being developed at Maze Lumber in IL. Jason's dad, Walt, had managed to come up with some ideas that were proving to be not only playful, but also profitable. Even though he decided to dress up as a mean lookin' nun, he sure exhibited some Adultitis-free behavior this Halloween. (Especially while riding his scooter around town!) I'm excited to share…
Walt's "Top Ten" observations from the day.
10. The food was well received! (hot apple cider, apple cider donuts, with some other sweet additions)
9. Upon seeing the costumed employees, one of our contractors was laughing so hard that he was near tears (and this guy is usually all business, very serious).
8. Three of our regular salesmen that call on us were stunned when they came into the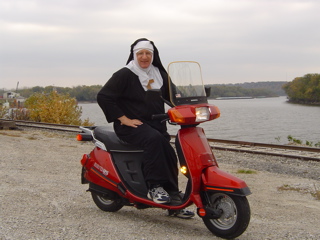 office. One said he walked in and thought, man that woman looks just like Craig. Then he found out it was Craig!
7. Riding my scooter to work and around town was great. I was just riding along, honking my horn. I thought I was in a parade! Actually, I'm rather surprised I didn't cause a pile up.
6. We have a really nice group picture (which will also serve as a winter contest) that we are going to date and frame to remember the day.
5. Folks are already talking about next year's bash!
4. There was one customer I had that couldn't keep a straight face as I told him about a tool he was thinking about purchasing. With a big smile, he laughed and admitted he couldn't take me seriously because of my costume!
3. The employees that didn't buy into the idea felt left out. (some Adultitis candidates?)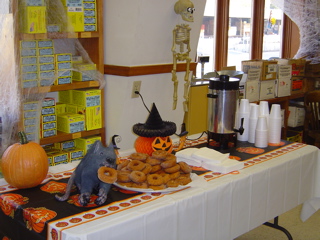 2. A surprising costume from one particular employee. He's a very straight shooter but came to work in a $7.00 dress and a hat that cost him $3.00.
1. No one left Maze Lumber without a smile on their face. I think we really made some peoples' days. They were impressed with our creativity and the guts it took to come out in public with our costumes. All in all a day that will go down in the books as a classic at Maze Lumber.
The main thing that comes to my mind is this… People do business with people they like.
Do you think Maze Lumber earned some loyalty points with their customers on Wednesday?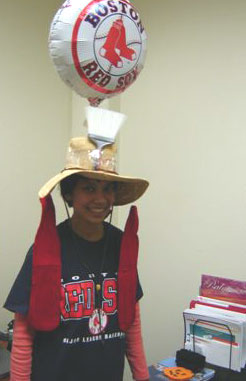 On Saturday the big box store in town will send out with their flashy weekly flyer, highlighting the lowest prices in town, but Maze Lumber doesn't have to worry. They are building relationships that do beyond a few dollars in savings… and they're having fun while doing it. What a way to fight Adultitis!
P.S. The fun folks at Maze Lumber weren't the only ones being playful on Wednesday. Jason and I met a wonderful woman named Cristina at a speaking event in Pacific Grove, CA last Tuesday. She told us that the next day (Halloween) she was going to be wearing a special hat she created. Her employer invited the employees to wear hats, versus masks or costumes. She is a Red Soxs fan and had received a balloon from a friend recently for her birthday. With the balloon, and their recent sweep in the World Series as her inspiration, she created a one-of-a-kind hat that was sure to get some smiles throughout the day.
[tags] Halloween, fun, playfulness, Maze Lumber, World Series, Adultitis, costumes, big box stores, customer service[/tags]