As American schools rampantly work to take Halloween off the calendar, I am relieved and refreshed to hear about a few businesses embracing this fun holiday with open arms, using it as an opportunity to give their customers a fun experience.
You may remember Jason's dad. We've highlighted him in the past for his example of playfulness and Adultitis-free living (you may also remember him from his high spirited contributions in the Escape Plan). Well, Walt strikes again!
He works at the oldest lumber yard in Illinois, founded in 1848… take that Menards! (Maze Lumber is the birthplace of Maze Nails, the manufacturer of American-made specialty nails known nationwide. It's under the ownership of the same family that started the lumberyard, now in its 6th generation.) All of this being said, it can still be a challenge to try to compete with the big dogs in town. Savvy marketers know that if you try to compete on price with the Wal-Marts and Home-Depot's of the world, you will soon be spending your time filling out your Chapter 11 forms. So, in the spirit of fun, Walt brought a plan to his staff to use Halloween as an opportunity for some playful profitability.
"People rarely succeed unless they have fun in what they are doing."
– Dale Carnegie
Walt was originally inspired by another local business, whom he noticed was doing some similar things in their niche. Being a bank, they decided to have a Halloween promotion highlighting "spooky rates" for their car loans and cd's. The only way you qualify for the lower rates is to come to the bank in costume (masks only don't count).
Sounds playful and fun, but did it work? YES!
They have had business well into the 6 figures from folks donning furry and goofy costumes. One woman showed up in a full Easter Bunny costume. (I bet the teller took a double-take.) Another couple came as "cops and robbers!" How hilarious is that!! The bank has seen so much of an increase in their profits they have decided to make this an annual happening. Who would've thought that you could have fun at the (normally Adultitis-ridden) bank?
After hearing about the costume hyjinks at the bank, Walt decided it was time to apply a similar strategy at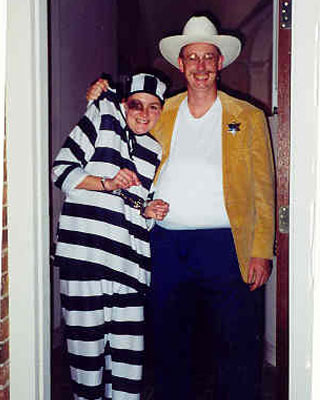 the lumber yard. This year they are hosting the 1st Annual Maze Lumber Halloween Costume Party.
On October 31st, employees are invited (and encouraged with the incentive of an extra hour of pay) to dress in costume (again masks only don't count). The office will be decorated in the full Halloween spirit! But the employees aren't the only ones allowed to have fun on the 31st. All cash and carry customers will receive 3.1% off their purchases. They will also be invited to enjoy some free "witch's brew" of hot apple cider and apple cider donuts from a local hot spot known for their yummies. The customers will also be invited to pick their favorite costumed employee. The winning customer and employee will each earn $25.00.
That's not all. Being a lumber yard, they have a huge scale, to be able to weigh their orders. At some point in the day, they are going to gather the entire group of employees onto the scale for a photo opp. Later they will use this picture as a contest where their customers will have to guess the total weight of all of the employees. So, the fun will continue.
They've got radio adds running about the festivities, scheduled adds in the paper, and the paper is scheduled to come to take pictures on the day of the event. The opportunity for PR alone is priceless.
Will all of this fun attract some business? It sure hasn't hurt the bank's bottom line.
So, there are twelve days left until Halloween. How can you bring this playful spirit into your work?
Even if your boss is the unofficial spokesperson for Adultitis, he/she can't argue with better profits!
By the way, Jason's dad isn't our only relative who keeps Adultitis at bay…the couple in this picture is my sister and brother-in-law.
[tags]Maze Lumber, Maze Nails, Home Depot, playful, playfulness, profit, marketing, Escape Plan, Halloween, banking, Chapter 11[/tags]