(Warning: This is a Dr. Phil style rant that I just need to get out.)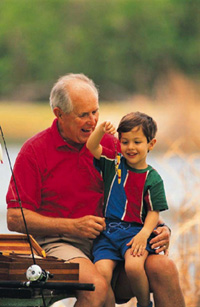 I feel sorry for grandparents these days. Many are getting jipped out of enjoying their hard-earned role as the "fun adults" in their grandkid's lives. So many grandparents are forced to be very "parental," playing a major role in disciplining their grandkids. This was not the case a few generations ago, when grandparents were allowed to spoil the kids rotten… which is how it should be!
Yesterday in church we sat a few rows behind a grandma (about 65) and her five-year-old grandson. The boy's parents were not with them and grandpa passed away a few years ago, so it was just the two of them. About a minute into the service, and I could see this was going to be a very long hour for both of them. Sitting in the front row, the grandma was clearly not about to make a scene, so you could see her picking her battles carefully (as every good caregiver does, especially in public). He tested and tested and tested her- lying on the ground, moving constantly, wrapping his coat around his head, shoving the song books onto the floor so that he could lie completely across the pew, playing with her cane and her reading glasses. She was so embarrassed and frustrated, often shaking her head and rolling her eyes with disappointment. She motioned for him to stand next to her a handful of times, with her sweet "grandma smile" and he consistently shook his head in a defiant "no."
I was steaming!
I leaned over to Jason who noticed the happenings also and assured him, "I'll be blogging this!"
This child clearly does not respect the authority of adults. (This was not a surprise to us because Jason and I worked with him for an entire morning for Vacation Bible School recently. That was a LONG morning.)
This interchange is symbolic of the dynamics that is too common for many grandparents and grandkids these days. I saw it too often when I was teaching. Parents are busy. So busy, in fact, that things fall through the cracks. Unfortunately sometimes those "things" involve discipline, consistency and follow-through. (It take a lot of time and effort to raise a "good kid.") Guilt takes over. Kids gain too much control. Enough said. Not only are the kids the major victims here, so are the other "innocent" adults who have to spend time with these out-of-control sweethearts- whether it's their teachers, daycare providers, or the grandparents. Yikes. Busyness strikes again.
A large part of our mission is to help kids have better childhoods. When I see this sort of interchange it really makes me sad more than anything. These kids are being deprived of a sacred type of relationship that cannot be duplicated – the grandparent-grandchild relationship. Special memories are made, like being spoiled with sweets, later bedtimes and precious one-on-one activities like making cookies together, fishing, or playing with a special train set. When the grandparents are forced to be yet another voice of discipline (because of the lack of discipline from the parents), then they cannot even think of spoiling them, which brings them so much joy. It's impossible to spoil a spoiled brat.
I wish parents would just "parent" so that grandparents can actually "grandparent."
[tags] grandparents, parents, parenting, discipline, respect[/tags]