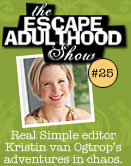 In this episode, brought to you from studio 315 in Madison, Wisconsin, we interview Kristin van Ogtrop, the editor of Real Simple magazine, about balancing all of the things that come with being a busy editor, mom, wife, pet wrangler, friend, loyal daughter, and enthusiastic sister. We also talk about parade balloons and offer simple ways moms can escape adulthood. Just click "Play" to listen to the show…
Show Notes…
• Read Kristin's candid and funny blog, Adventures in Chaos.
• News: Five ways moms can carve out some "me" time (MarketWatch)
• Download the free eBook, "79 Ways for Busy Moms to Escape Adulthood."
• Check out Bright Days and Fun Spirit, two blogs by Adultitis Antidote winner Shirley Jones, for a refreshingly optimistic and fun outlook on life.
Win Stuff: Jamie Lyn won last month's promotion by sharing her favorite childhood Halloween costume. You can win a $20 gift certificate to the Lemonade Stand by letting us know, "What did you want to be when you grew up?" Leave a comment!
Show Music: Coyote Sleeps by Ethan Elkind
Show Length: 54 minutes, 51 seconds
Shout Outs: Thanks to Kristin van Ogtrop, Jamie Lyn, and Shirley Jones!