(Say that five times fast!)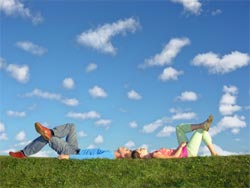 We have so many choices on our "menu of life." The freedom we have is such a gift and it's time to order up the best that life has to offer. To be able to do that we have to ask ourselves a very important question…
What steals your peace?
I caught a minute of author and speaker Joyce Meyer on TV the other day asking that question. She suggested that as soon as you figure out the answer, you can work to proactively avoid those things.
Is it a negative person in your life, your unhappiness at your job, or an anxiety of some sort?
What is your answer to that question?
One of my answers is rushing. It's when the speed of my physical surroundings does not match up with my ideal internal speed (which I've identified as about 35 MPH). This disconnect steals my peace. (Tobeme at The Naked Soul blog shared some helpful insights on "slowing down" yesterday.)
One way I've found to avoid this is to plan ahead. You can't plan to everything, but there are certain things that just requires a little discipline to do, like writing out the meals for the week on the weekend before, planning a date with Jason before the week fills up, or going to bed early enough so that I will be able to get up and exercise before the day starts (otherwise I won't do it). There are certain things you know about yourself that are helpful to evaluate with honesty. That's the key word here… honesty. (If you need a refresher course in honesty take a four-year-old to the grocery store with you and stand in line behind someone who is outside of his healthy weight.)
If I'm being honest with myself, I know that if I don't have some quiet meditation/prayer time in the morning, then I am going to be "off" throughout the day. That is a peace stealer for me.
So, what steals your peace?
The sooner you identify the culprits, the sooner you can do something about it and regain the clarity and balance you're looking for.
[tags]peace, rushing, Joyce Meyer, The Naked Soul, balance, clarity, honesty[/tags]