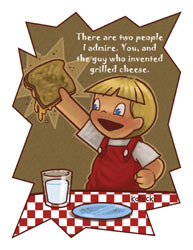 Burr. It's getting chilly here in Madison these days. I've been wearing my hat (which I DO love) on my morning walks. Even though it bums me to think about bundling up until at least March, I am delighting in the little things that come along with the cooler weather… like comfort foods! I wrote an article for our last magazine (which you can download here) for the Yum section about comfort foods and how they are connected with our childhood memories, specifically highlighting one of my all time favorites- mac 'n cheese. Eliz Greene contributed a fantastic recipe for "Fancy Mac and Cheese" that is an adult twist on a timeless favorite. One of our dreams is to open a Kim & Jason restaurant, featuring all sorts of classic dishes from childhood with grown-up flair. Someday…
The other day on The Food Network I caught Tyler Florence doing the same kind of thing to yet another classic comfort food- grilled cheese. Have you ever thought of adding sliced green apples to your grilled cheese, or how about bacon and dijon mustard? Yum! Leave it to Tyler to jazz up the average cheese and bread sandwich, creating a work of art.
So, instead of grumping about the cooler weather, put on your favorite fleece pants and serve up some childhood classics, grown-up style.
Enjoy Tyler's recipe…
Tyler Florence's Grilled Cheese
8 slices country-style white bread, sliced 1/2-inch thick
12 ounces farmhouse Cheddar, sliced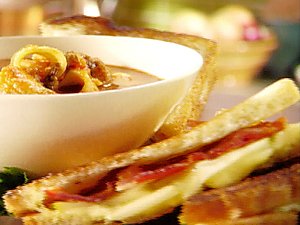 3 tablespoons unsalted butter
12 slices bacon, cooked to desired doneness
1 green apple, thinly sliced
Dijon mustard
Heat griddle or large skillet over medium-low heat. Alternatively you can use your panini press if you have one.
Assemble sandwich: Generously spread Dijon on 4 slices of bread. Top with slices of Cheddar, 3 pieces of bacon, apple slices and additional Cheddar. Place the remaining bread on top and spread with butter. Place on skillet buttered-side down and butter the remaining side. Cook until cheese is slightly melted and bread is browned. Flip the sandwich and continue to cook until cheese is thoroughly melted and sandwich is golden brown.
Club K&J members: share YOUR recipes, strategies, victories and challenges in your quest to escape adulthood!
[tags]comfort foods, Tyler Florence, Eliz Greene, grilled cheese, macaroni and cheese, childhood memories, The Food Network, Madison[/tags]