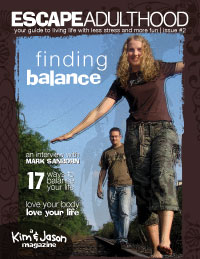 This digital issue is FREE to download!
In this issue…
Your life is busy, hectic, and complicated. It doesn't have to be quite so crazy. This issue is jam-packed with stories, tips, and ideas on how you can use strategies from childhood to bring a little bit more balance into your life.

Features…
Balancing Act by Jason Kotecki | How to stay sane in a fast-paced world.
An Interview with… Mark Sanborn | The best-selling author of the "Fred Factor" on balancing work and family, having fun amidst the busyness, and lessons we can learn from kids.
Love Your Body, Love Your Life by Jill Fleming | Jill, a registered dietitian and wellness speaker, shares simple choices you can make to love your body and get yourself feeling great.
The Natural Balance of a Perpetual Summer Vacation by Tony D. Clark | Prolific entrepreneur-designer-artist-writer on work life balance and the joys of working from home.
17 Ways to Balance Your Life by Bret Nicholaus and Paul Lowrie | The "Question Guys" offer up some simple yet effective tips for bringing balance into your life.
Escape Plan: Colorado Springs by Kim Kotecki | Discover five awesome ways to escape adulthood the next time you visit Colorado Springs, Colorado!
Creating an Easier and More Fun To-Do List by Lindsey Cox | This busy mom shares a fun project to help you accomplish your goal and get the most out of life.
In Search Of… by David Stoddard | In a delightful article by the "Unmotivated Motivational Writer," rediscover something you might be missing from life.
The Red Doll by Marilyn Kinsella | A heartwarming tale of loving grandpas and games of chance.
Are Your Priorities in the Basement? by Doug Kotecki | An interesting take on G.I. Joe, Nintendo, and the choices we make in life.
…Plus much, much MORE!
*Download The Issue Now*
(You can also buy individual printed copies.)