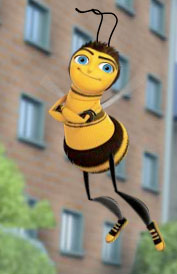 In the newly released Bee Movie (produced by, written by, and starring Jerry Seinfeld), the main character, Barry B. Benson, is applauded for having the perfect report card — all B's. Kim and I had a chance to see this film over the weekend, and I have to give it all A's.
What made it most refreshing was the influence of Seinfeld. The king of observational comedy, Jerry's fingerprints were all over the movie. I expected a lot of bad puns (there were only a few) but time and time again, I was delighted by all of the witty, smart, and thoughtful observations about what life might look like from the perspective of a bee. Somehow it managed to be funny while making perfect sense at the same time. For instance, ever think about how important anger management is to a bee when you consider that the decision to sting is often fatal? Or have you ever wondered what a bee would think about those ubiquitous bear-shaped containers we use to sell honey? It's insulting, to say the least.
Although his classic TV series often contained an overarching sense of cynicism, this movie almost exclusively displays Seinfeld's witty charm, naive curiosity, and childlike optimism.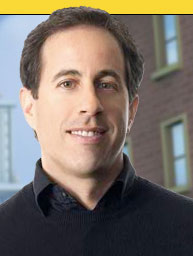 The story is just fun, the characters are interesting (if Chris Rock had been in more of it, he'd have stole the show), and the visuals are as stunning as they are whimsically fantastic. I am not a big fan of animation trying to achieve total realism, and Bee Movie does a good job of creating a believable world mixed with cartoony caricature that makes these sorts of movies fun.
I also appreciated that the movie didn't take itself too seriously, opting for more of a fairly tale styled plot rather than trying to bend over backwards explaining how any of this could really happen in real life. It also offered up an example of how all of nature works together, without being overly preachy (something that I'm getting quite weary of these days.)
You'd probably have to watch the movie three times to get all of the little side jokes. Tie in some themes about dreaming big, delighting in the little things, and asking "why?" and you've got a bona fide Adultitis Antitode of a film for the whole family. It's packed with laughs and a lot of moments that will have you smiling as you think, "Hmm…I never thought of that before."
[tags]Bee Movie, Jerry Seinfeld, Dreamworks, animation, movie review[/tags]