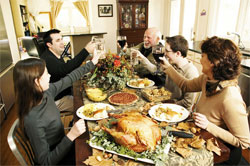 It's one of the shortest stories in the Bible, but I think it's so relevant to our modern day- the story of Martha and Mary. I reread it this morning (Luke 10:38- 42) and couldn't help but think about all of the busy people this week, preparing for Thursday's feast. Let's be honest, it's a lot of work… the bird, the side dishes, desserts, and don't forget the cleaning (before and after). Some people love it, and then others are quite resentful. A lot depends on the amount of support received with the busywork tasks that need to be done.
You may remember in the story Jesus and his disciples (a large group of hungry guys) went to Martha and Mary's house for dinner. As Mary sat at his feet listening and learning, it says, "Martha was worrying over the big dinner she was preparing." Eventually enough was enough and she complained to Jesus about how unfair it was that she was doing all of the work, as Mary sat and enjoyed his company. His reply is one that I think many people need to hear, especially during the holidays…"My dear Martha, you are upset over all these details! There is really only one thing worth being concerned about. Mary has discovered it- and I won't take it away from her."
Have you discovered it?
The reflection in my Bible points out that Jesus did not blame Martha for being concerned about the chores, he was simply asking her to set priorities. What a great thing to remember as we move closer to Thursday. What's really important this week?
I've heard it said that "the devil is in the details." Don't let the details ruin this week.
Delegate as many details as you can, then, in the spirit of gratitude, let go and enjoy all of the little moments.
[tags]Thanksgiving stress, Martha and Mary, Luke 10:38, delegation[/tags]