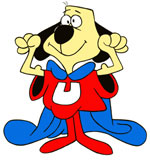 There aren't many things that bring me back to childhood faster than listening to the theme songs of the favorite shows of my youth. I'm often disappointed by actually watching them (was the animation really that crappy?) but the song itself conjures up all the old feelings of excitement and adventure. This one might be my favorite:
I also have a special place in my heart for themes from A-Team, Mighty Mouse, Spiderman, and GI Joe. All of these songs (and many, many more) can be found at TelevisionTunes.com (hat tip to Shirley for pointing this site out.)
As I strolled down memory lane, I was struck by how much those songs influenced me as a kid. They're all very heroic in nature, championing truth, justice, good over evil, and the plight of the underdog. My make-believe time was often spent with a cape tied around my neck as I sped off to save the day, or with a machine gun in hand on my way to infiltrate the bad guy's hideout. Listening to the songs actually stirs up a desire that drives me to this day — a desire to make a big difference in the world. Somehow, even though I was a shy, skinny, middle class kid from Peru, Illinois, those songs made me believe that I could. They helped me believe that it WAS possible to make a difference.
And in my own little way, I believe that I am.
Thanks, Underdog.
What about you? How did music from your childhood influence you as a person?
[tags]music, cartoon songs, tv show themes, Underdog, A-Team, Mighty Mouse, G.I. Joe[/tags]