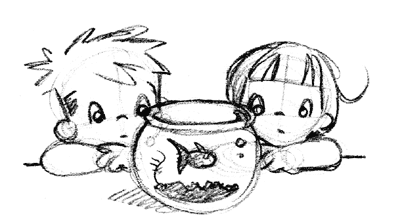 Those astute longtime Kim & Jason fans out there probably have noticed that this year's strips have been familiar. That's what we in the biz like to call re-runs. I have spent the bulk of this year in sabbatical mode, trying to decide what direction to go with Kim & Jason.
It all started last year at about this time. After six years, I was starting to get burned out with doing the daily strip. Meanwhile, our increasingly busy speaking schedule and growing online business began to really take up a lot of time. I decided to put the strip on hold and think things through.
I have put off announcing this decision for quite some time, but it is official: I have decided to cease production on Kim & Jason as a daily comic strip.
Yikes, that sounds so final.
One of the reasons I have held off on this announcement is frankly, fear. I am afraid that all of the people who love reading the strip will run away in droves, never to be heard from again.
There's also a side of me that feels like I'm giving up in a way. Six years isn't even a drop in the bucket compared to the career of a Charles Schulz. But the reality is this: back when I started this ride, my normal day looked a lot different. The comic strip was the be all and end all. The idea of blogging, podcasting, speaking, and writing books was barely on the radar (if at all.) I've added all of these things to my plate — talents I didn't even know I had back then — but the number of hours in my day remains the same. (Funny how that works.) Honestly, the extra pressure of cramming in the comic strip with all the other things going on really started to make me resent the strip.
Last December, I was going through a funk where I was feeling that I should abandon Kim & Jason altogether. I felt stale and bored. One day, I had a chance to visit a comic book shop and I stumbled upon a comic book called Herobear and the Kid by Mike Kunkel. It blew me away. Rather than a traditional tale filled with muscle-bound heroes in super-realistic worlds, Herobear is rendered in a sketchy, cartoony style. The story is a good one, told in a very graphically interesting way. It told a story in a way that I never could with just four boxes a day. It inspired me. And it challenged me. It got me thinking of possibilities.
In the process of stepping back, I have come to realize that it's the process I don't like. I still love the characters. I still love to draw. And I still love to tell stories. One of my favorite things about doing the strip was drawing the weekend strips, in all their technicolor glory. It gave me the opportunity to be more creative with the composition and the storytelling. What I've come to understand is that I'm not burned out by Kim & Jason, but I am stifled by the demand of the daily deadline and the restraints of the four tiny little boxes.
That being said, I am continuing on with Kim & Jason, just in a different format.
I really wanted to avoid any kind of situation announcing the end of one thing while promising something new only to have that new thing never materialize. That's why I've waited 'till now.
I have spent the last few days in a hotel room in Milwaukee putting the final touches on the initial script for a new Kim & Jason story. It's about monsters under the bed, and it's turning out pretty good. I'm still not exactly sure what form this story will take, only that it will not be in the form of a daily strip. It will likely be published as a book, in color, sort of a cross between a comic strip and a comic book and a children's book. Or something. I'm pretty good at creating things that don't fit in a neat little box (meaning it's unlikely a traditional publisher would even know what to do with it.) My only self-guideline is to let loose and have fun with it and just let it be what it's meant to be. You can be sure that I will post the progress as it comes along.
So that's it. There will be no new daily comic strips for the foreseeable future (I never say never), but a new Kim & Jason project will begin to unfold over the course of the coming year. Logistically, we will still be running the archived comic strips on the web site and in the Kim & Jason Insider, so those of you who still crave the daily visit from Kim and Jason will not be deprived. And with a six-year rotation, I don't think you'll have to be worried about getting tired of seeing the same old thing anytime soon.
I have been truly blessed by those of you who have been avid or even casual readers of Kim & Jason, your interest and attention is an honor. I am at once sad and yet excited about the things to come, and I thank you for your encouragement on this journey.
God bless.