I'll never forget the shock and awe I experienced the first time I had recess duty for my kindergartners after the first snow. There they were- all of them- sitting in piles of snow eating it, as if the sky had rained down snow cones for all! Their little faces would get so red, after being exposed to the snow that would inevitably miss their mouths (it's hard to aim with huge mitten on!).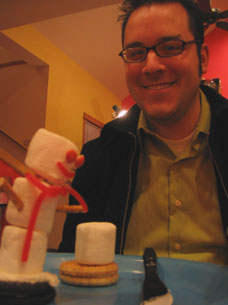 Edible snowmen.
Well, you don't have to risk losing your nose to frostbite to have that much fun. Visitors yesterday were invited to build their own edible snowman. Don't worry, the snow isn't yellow. Heck, it's not even snow. Here's what you'll need:
big marshmallows
pretzel sticks
frosting
oreos
mini M&M's
licorice rope
Then you just go to town creating your friendly neighborhood snowman. Don't get too attached, you might feel guilty when you ultimately decide that, although he's cute, he's even more delicious.
(Speaking of delicious, check out our tips for gourmet hot chocolate from Day 9.)
[tags]snowman, 12 Days of Wishmas, eating snow[/tags]