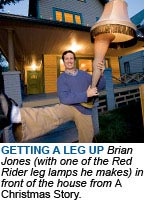 Anyone out there who doesn't love the classic 1983 movie A Christmas Story? Not sure it needs to be played in a continues loop on Christmas, but still.
Did you know that you can actually visit the house where the movie was filmed (not sure if the furnace ever got fixed) and buy your very own leg lamp to display proudly in your window?
Don't believe me? I'm as serious as a kid with his tongue stuck to a flag pole.
Brian Jones makes fishnet-stockinged leg lamps for a living. And the house? He bought that on eBay. Read the remarkable story in Guideposts Magazine. I double dog dare ya. It's a great reminder that lots of good things still happen to you after you've gotten the biggest disappointment of your life.
[Hat tip to Libby]
[tags]A Christmas Story, Brian Jones, Guideposts, Leg Lamps[/tags]