In our speaking programs Jason and I share tons of tips (many from The Escape Plan) to give our audiences realistic ideas to bring back into their busy lives to help them stress less and have more fun. It's one thing to talk about all of this… and it's an entirely different thing to actually do something about it. We love talking to individuals afterwards as they share what action steps they are planning to adopt immediately on their fight against Adultitis.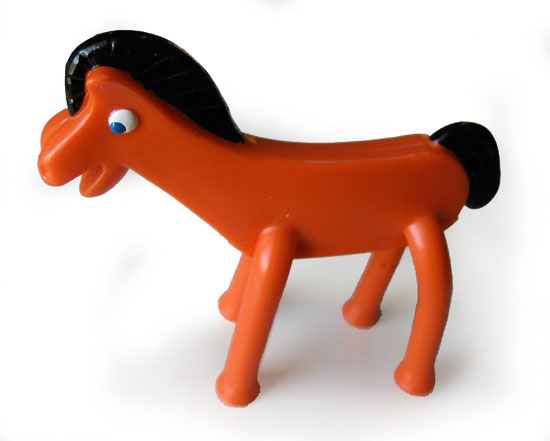 One idea is the game "Hide Pokey." Some of you long-time podcast listeners may remember this from one of our shows in '05. You all know Pokey, from Gumby and Pokey fame? Well, this game is kind of like hide and seek (my all time favorite game from childhood), except instead of hiding and finding each other, you hide Pokey. One person starts out with the task of hiding Pokey in a place someone else will eventually find it. The person who finds Pokey is then in charge of hiding him again, as the game continues indefinitely. The fun comes when you're pouring yourself a bowl of cereal, taking a shower, or making copies, and Pokey shows up unexpectedly, bringing with him a smile to brighten your day.
This game rocks because it's a super simple way to add a bit of playfulness at home, work, or with friends and extended family, even. Jason and I started this game when we were dating after getting the idea from some college friends. Now over ten years later, we have gone through a handful of Pokeys. We'll have a good laugh someday when we find those MIA Pokeys. Kind of like that last Easter egg you find in July behind the couch.
Our friend Eliz plays this game with her mom, hiding a ceramic hen in each other's houses. We were sitting at her dining room table one night for dinner and she started laughing hysterically. She had not noticed until just then that the hen was in her china cabinet. Her sneaky mom had put it there over a week before. So fun!
One of my favorite hiding places was in Jason's mashed potatoes. I carefully wrapped Pokey in a small piece of plastic wrap, placed him on the plate and put a glob of potatoes on top. All throughout dinner I could barely contain my excitement, anticipating Jason's face. It was awesome! Like a confused puppy, he proceeded slowly prodding his fork, upon seeing something orange. He couldn't believe it! It was the best hiding place yet. Of course I had protected Pokey so that he wouldn't get gross, but plastic wrap in mashed potatoes is pretty gross itself.
An audience member from one of our fall gigs adopted the game right away and sent us a few emails recently about the newfound hyjinks Pokey has brought to her household…
"The Pokey you gave my family at your program has been a real hit since October! Pokey is going to be our family Christmas 'gift' to our family and friends. (A few of them have extreme cases of Adultitis!) We can't wait to spread the joy of hiding/finding Pokey. He's been found in our nativity sets, Christmas tree, and advent calendar… Pokey is everywhere! Thanks for the wonderful idea of Pokey!"
Shortly after Christmas we heard from her again…
"Everyone has been so excited about receiving Pokey!! I've had several requests for more Pokeys! They are loving him!! I had one friend decide to order 20 of them herself. Pokey is getting around, and adults (and kids) are having an enormous amount of fun with him!"
It's all about adding more fun to your daily routine. What an easy way to smile more. And who says fun has to be expensive?! For under two bucks, people all over the world have been stressing less and having more fun… all because of a silly game. Of course, you can use any type of little trinket to play. We love Pokey because he's small, bendable, waterproof, and did I mention cute? If you decide to adopt an orange pony yourself, you can pick one up here. Happy hiding!