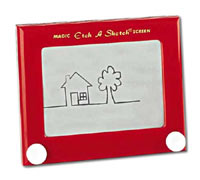 Sometimes the assumption is that all of this childlike stuff is reserved for those artsy, creative "free spirits."
Not true.
We all could stand to be a little bit more childlike; it's just that it looks different depending on the type of person you are.
Take the Etch-A-Sketch for example. It is regarded as one of the classic American toys. My brothers and I had one growing up, but I never really got into it. Now that may come as a surprise to you, considering my artistic nature. But here's the deal: my brain is not an Etch-A-Sketch brain. It doesn't think in horizontal and vertical lines, which is a skill you need if you want to create something interesting with the Etch-A-Sketch.
I was big into sports as a kid, and loved drawing my sports heroes. To me, the Etch-A-Sketch was nothing more than a novelty. I never looked at it as something that could be used to produce great sport illustrations.
Well, I was wrong — dead wrong — as this video attests:
Now, even after seeing this video, I will not go out and buy an Etch-A-Sketch to start drawing Kim & Jason on. Because my brain still doesn't think in horizontal and vertical lines. A few minutes spent with an Etch-A-Sketch makes me want to toss the thing under a bus. It's too rigid and Adultitis-inducing — for me. And yet, for George Vlosich, drawing Lebron James with an Etch-A-Sketch is quite childlike (and mind-shatteringly impressive) indeed.
Creativity expresses itself in many different ways, from an artist creating an oil painting, to a scientist discovering a new way to attack a disease, to a math teacher designing sudoku puzzles, to an accountant scribbling down an inventive investment strategy on a napkin, to a dude drawing celebrities with an Etch-A-Sketch.
A childlike spirit looks different for everyone; it's as unique as you are. The diversity is what makes it interesting. They key is to let it out and play every once in a while.
P.S. Create your own Etch-A-Sketch drawing online at www.Etchy.org — you can even e-mail your works of art to friends! (Hat tip to Jill McGarr)