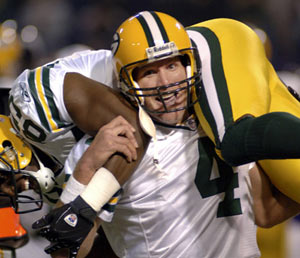 I live in Wisconsin, which means we're still dealing with the fallout from the retirement of Brett Favre. Most of the Land o' Cheese is in an official state of mourning, which I doubt will end anytime soon. I said "most" on purpose, because I, my friends, am a Chicago Bears fan. Living as a Bears fan in Green and Gold country is no easy task. But the load got a little lighter when Number 4 announced his retirement last week.
As a Bears fan, I hated Brett Favre.
But as a football fan, I respected him.
And as a human being, I downright admired him.
A perplexing dichotomy, to be sure, but as one who espouses the merits of childlike — not childish — behavior, I'm not sure I will ever see another athlete in my lifetime who played his (or her) game with more childlike enthusiasm than Brett Favre.
At the time of his retirement, he was a very old man by NFL standards. But to see him on the field on Sunday was like watching an 8-year-old kid on the neighborhood sandlot draw up plays in the huddle with sticks and bottle caps. (You go long — run as fast as you can and I'll chuck it to ya!)
The kid-in-the-candy-store look when a game was about to start. The improbable improvisations that made his coaches batty and fans cheer. The exuberant jubilation that came with every touchdown pass (which he somehow always made seem like his first). His enthusiasm made him look like an overgrown kid playing a man's game. His dominance made him look like a man playing a boy's game.
On the field, he was a champion. He was one off the field as well. He overcame addictions and the childish behavior of youth to develop into a solid role model for all ages. Kim and I do a lot of volunteer work with the Make-A-Wish Foundation, and I can speak to his level of commitment and generosity in that area as well. He went out of his way to help kids in need, freely giving time and money.
Well done, Brett. Thanks for all the highlights. Thanks for showing us that a person can be childlike AND a champion. Thanks for giving us a great example of what it means to take your job seriously without taking yourself too seriously.
Enjoy life. Enjoy your retirement. You, your family, (and Bears fans everywhere) so richly deserve it.