My lovely wife Kim turns 30 today. Technically, that means she was born 30 years ago, but I don't know that I'd call her 30 years old, because somehow, she still has the heart of a five-year-old.
I figured it would be a prefect opportunity to honor her with a tribute of some sort. So without further ado, here are 30 things I love about Kim…
I love going on walks with her.
I love how she looks when she's sleeping. All cute and stuff.
She still sleeps with a pillow that she had when she was a little girl.
Although her heart is five years old, her spelling skills are not quite that advanced. I find the results of that "shortcoming" to be quite charming and endlessly entertaining.
Other than that, she is really quite sharp.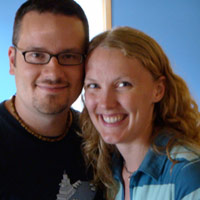 Her smile produces enough electricity to power a small village. (Maybe even a big one.)
Her faith is the most important thing to her. Even more important than me. Cool.
She laughs a lot, which makes me feel funnier than I really am.
Plus, her laugh makes things more fun.
She doesn't turn up her nose at (and actually enjoys!) the stupid comedies starring any of the following: Will Ferrell, Ben Stiller, Owen Wilson, or Vince Vaughn. Score!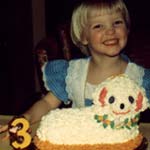 I've heard stories that as a little girl, she was very spunky, bold, and mischievous. Not much has changed.
She's a good listener.
She's the best person to have around when you're sick (if you like to be spoiled.)
She's a hard worker.
She challenges me to try new things and live more boldly.
She's beautiful in so many ways. Seriously, God went way overboard.
She supports my crazy dreams without making me feel like I'm crazy.
She's great with people and a wonderful relationship builder.
She willingly takes on the mantle of "football widow" each fall.
She manages logistics really, really well. Nothing falls through the cracks with her.
She often cries when she sees children in need.
She's not one of those hoity toity, fancy, hard-to-please girls. I don't like them.
She's always trying to be better.
She has a cute nose and toes.
She makes me feel like a superhero.
She doesn't take herself too seriously.
She's a little bit nuts. In a good way.
Kids adore her, which I've always taken as a good sign.
She is ridiculously kind and selfless. A cheerful giver.
She picked me. (Maybe this goes along with the "nuts" part.)
There you have it — thirty things I love about my wife. Happy birthday, Kim!!!
P.S. I wrote this Ode to Kim over four years ago, and this one five years ago, and everything in it still holds up (even though life has changed quite a bit since then.) I'm still a lucky dude.