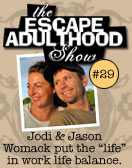 In this episode, brought to you from studio 315 in Madison, Wisconsin, we interview Jason and Jodi Womack, a husband and wife team who help people manage time and increase personal productivity. They are a great example of how to put more life into work life balance. We also talk about the rise of work rage, organizing your greeting cards, and a minature Adultitis antitdote. Just click "Play" to listen to the show…
Show Notes…
• Learn more about how to save time and be more productive at www.jasonwomack.com and don't miss the video on Speedkeys.
• Jason Womack recommended the following books: Think and Grow Rich by Napoleon Hill, and The Effective Executive by Peter Drucker.
• News: 'Work Rage' Spreads as Stress Takes Hold (HR Zone)
• Pre-order the forthcoming book from Running Press, Escape Adulthood: Rediscover the Carefree Kid Within. It's a miniature-sized treat for people who are not big fans of reading books without pictures :)
Win Stuff: Michelle Rosborough won last month's promotion. You can win a $20 gift certificate to the Lemonade Stand by letting us know, "What is your favorite time saving tip?" Leave a comment!
Show Music: Coyote Sleeps by Ethan Elkind
Show Length: 54 minutes, 52 seconds
Shout Outs: Thanks to Jason and Jodi Womack for the interview and Sara Lilly for the feedback!