Jason is drinking JELL-O through a straw. Why?
Why not?!
Last month I wrote about the crazy childlike selections at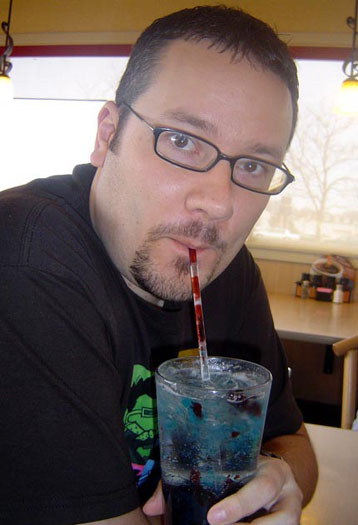 IHOP, in celebration of the Seuss movie, "Horton Hears a Who!" Well, there's only 12 days left (until April 20th) to order one of these colorful dishes. Jason and I ended up at an IHOP in Waterloo, IA last week, after a speaking program. Jason decided to order the "Beezlenut Splash."
IHOP's description of this silly drink is as follows: Springing up from the jungle of Nool. Lemon-lime soda- refreshing and cool. With Cherry and Berry Blue Jello-O – what fun! Slurping up the colors one by one!
Indeed, Jason did enjoy slurping up the colors… one by one – such fun!
We saw a fifty-year-old guy giggling over his plate of Who-Cakes. Any time you can get your grown-up customers to giggle… you know you're doing something right. They'll be back.
I have to admit, I was not that impressed with their version of "green eggs." Instead of dying the eggs green, like our friends the Greene's did for April Fool's day, they took the easy route by adding spinach to the eggs. Maybe they were nervous that no one would order green eggs.
You have to give IHOP credit, though. The idea of adding a medley of Seuss-like selections is a tried and true sign of Adultitis-free leadership.
Speaking of JELL-O, remember the classic JELL-O commercials Bill Cosby did a few decades ago? Check out a few of my favorites… here and here.