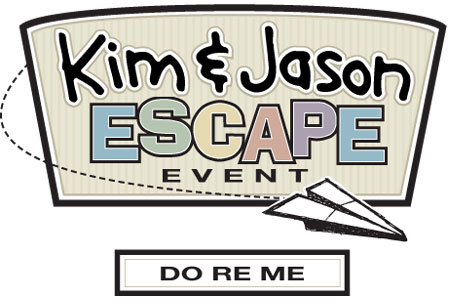 Last Sunday was the second Kim & Jason Escape Event. The challenge was called Do Re Me, and Club K&J members were invited to do the following:
Do something childlike today that is music related in some way, shape, or form.
Kim and I had some fun mixing music and food. Lots of people joined in on the fun, sharing with us stories, pictures, and videos of the event. All Club K&J members who participated were eligible to win a cool prize: an iPod Shuffle from Apple. We pored over all of the entries, and decided on three finalists. The rest is up to YOU!
Take a look at the following entries (listed in alphabetical order by last name), and decide who did the best, most creative job of fulfilling this task. Then vote for that person in the poll below.
Finalist #1: Sue Gudenkauf
From Sue: "For Escape Event #2 I remembered lots of fun time at Camp Courageous of Iowa singing (and signing) camp songs. It was a blast to try to remember the words and the melody and the signs. I totally enjoyed reliving this musical memory from my younger years!"
http://www.youtube.com/watch?v=ANrfu2N0ckU
Finalist #2: Judy Irené
From Judy: "Since I will celebrate my 50th birthday later this year at a SF Giants baseball game, I decided to use the Do-Re-Me event to celebrate the 50th anniversary of the SF Giants moving to San Francisco AND the 100th anniversary of Jack Norworth's writing of the unofficial anthem of baseball, Take Me Out to The Ballgame.
On Sunday, like the 7th inning stretch, I got the whole neighborhood involved! I enlisted the help of family, friends, neighbors, cats and stuffed animals to record the song event, Bob Dylan style — you know, the infamous video of him holding up the words to the song?!
We sang the song and took pictures of everyone involved holding up the phrase they wanted to and talked about our favorite baseball memories. Baseball is THAT kind of past time that families and friends have incredibly fond memories of.
Then, we all gathered round and made a video of the entire event using Ed Meeker's original 1908 78rpm phonograph recording of Take Me Out to the Ballgame that includes the full set of verses most people don't realize exist!!! If it doesn't make you want to yell 'Play Ball' and get to your next baseball game, nothing will!!!"
Finalist #3: Walt Kotecki
From Walt: "My musical challenge today was to pull out the old accordion. It's stored in the basement now so I had to wipe off the dust from the case and drag it into the family room. As always, the sheet music was in the case. I have a nice selection of Christmas tunes and I have been know to 'brush up' during the holidays and 'treat' the family with my musical skills. But today I promised myself no Christmas songs, just oldies and polkas.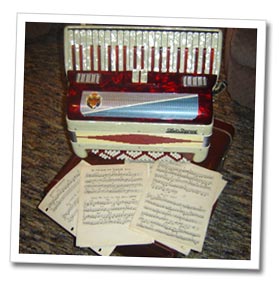 My childhood was filled with music in my house. However, very little of the sweet sound of music in my house came from me and my accordion which usually sat in the corner collecting dust in my bedroom much like l found it today. Two of my older brothers played the guitar which was cool for the 50's and 60's. My other older brother by 7 years played the accordion back in the day when playing the accordion was really cool. Me, I was stuck playing the accordion in the 60's — not cool! Every week I would get dropped off for my 1/2 hour lesson. I literally dragged it up 20 some wooden steps hoping it would bust on the way up or wishing the lid would spring open and I'd watch in horror and evil happiness as the accordion bounced off the steps as I imagined that my playing days were finally over. In spite of my resolve not to learn to play the accordion, I still managed to learn some songs. And by some miracle, when I do pick up my accordion I still amaze myself that I still know where my fingers are supposed to go (but I admit, it's not a pretty sound!)
My brother Marion and I actually got paid once for playing at our neighbor's wedding. We played two songs the whole night. One was Rambling Rose and the other was Beer Barrel Polka. I still can't figure out how Marion played the polka on his guitar!
My playing days finally ended when I convinced my mom that Harold the instructor wasn't any good and that her and dad were wasting their hard earned money on my lessons.
P.S. After an hour of 'music' my wife said, 'Nice concert!'"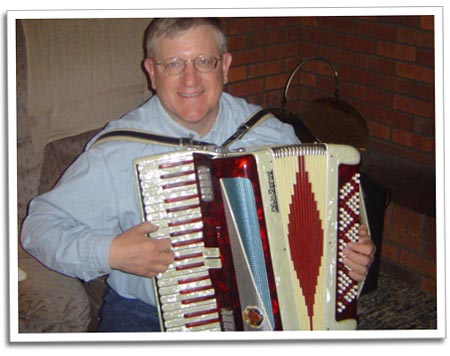 Place YOUR Vote!
Who did the best, most creative job of fulfilling this task?