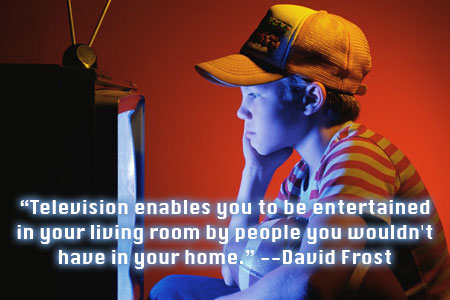 Stupid. Stupid. Stupid.
I'm sure I'll make a bunch of people angry, but I'm sorry. That's about the only word I can think of to describe what I think about parents who let their kids have televisions in their bedroom.
With our blue collar jobs being outsourced overseas, the main thing that keeps America humming along as a world leader is our ingenuity, inventiveness, and imagination (all of which flourishes under capitalism, by the way.) Manufacturing and factory jobs are going the way of the dinosaur, and they're being replaced by an economy of ideas and technology.
Television is a passive, mind-numbing medium. When a strong imagination and the ability to think creatively are the most important tools our kids need to succeed in life, I can't think of one good reason to let a child have a TV in their bedroom.
Especially with all of the junk that floods the airwaves these days.
Stupid.
And it makes for stupid kids, too. From the New York Times:
According to a recent study of almost 400 third graders that was published in The Archives of Pediatric and Adolescent Medicine, about 70% of the group had a television in their bedroom. The data indicated that the children with their own TV scored significantly and consistently lower on math, reading and language-arts tests. In a similar study of 80 children in Buffalo, N.Y., the presence of a television in the bedroom increased average viewing time by nearly nine hours a week, from 21 to 30 hours.
Don't get me wrong. I'm not one of those people who think TV is the devil. It certainly has is place in our lives. I'm just not sure that our children's bedrooms is that place. Can we shield our kids from everything harmful in this world? Absolutely not. But should we allow complete strangers into our kid's bedroom to teach them a thing or two about "life?"
I know that there are at least 52 productive alternatives to TV. I'd bet there are countless more things that would be just as fun and serve our children better than sitting in their bedroom watching the boob tube. Maybe I'm old fashioned, but I believe an imagination is a terrible thing to waste. You might be the "meanest" parent on the block, but the gift of letting your child stretch his or her imagination is one they will thank you for later.
So, what say you?