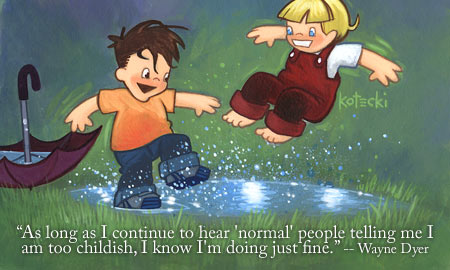 When Club K&J was first conceived, it was pretty much a modest fan club for people who liked my comic strip, "Kim & Jason."
Little did I know that it was the seed for something much greater, and much more important.
Over the past several years, as Kim and I have criss-crossed the country to share our ideas with people that are stressed-out, burned-out, and busy, I have begun to grasp the gravity of our mission. Enthusiastic and heartfelt encouragement of people who we meet along the way share phrases like "keep on doing what you're doing" and "the world needs this, hang in there." For a while, I absorbed these comments as little more than polite words of thanks, and sometimes as prideful pats on the back. Now I'm starting to see them as affirmations for when the going gets tough, and reminders that this journey is bigger than me, and certainly bigger than the little comic strip that started it all.
One thing I am starting to realize is that people whose childlike spirit is alive and well — the folks serious about not taking themselves too seriously — are too often in the minority. They often don't have many other people in their life who share the same outlook on things. Sometimes Kim and I are the only ones telling them that there's nothing wrong with them. What's worse, the Adultitis-ridden people around them (sometimes even their closest friends or spouses) try to make them feel "irresponsible," "childish," or "immature."
I am familiar with this sort of scrutiny, because we get it all the time. When we started this crazy ride almost eight years ago, I thought we had a pretty benign and agreeable message. I mean, who could argue with having more fun? With dreaming big while appreciating the little things? With spending our lives doing what we are passionate about?
Little did I know.
I guess people have a real problem with it. In a recent sampling of some of the online conversation going on about Kim & Jason, here are a few highlights of things actually said about us:
We are "delaying traditional responsibility" and are a "siren song coaxing people's ships away from responsible channels."

We are suffering from "Psychological Neoteny" a.k.a. " a phenomenon that adults in modernizing liberal democracies increasingly retain many of the attitudes and behaviors traditionally associated with youth."

We champion "a life that embraces a childlike spirit which is only really viable if someone else is paying for that life."

We promote "cockamamie age-faking strategies."

We "package childhood in a non-threatening way in order to sell things."

We "use specious arguments designed to stress out caring adults to sell stuff in (our) store."
Yikes. A benign and agreeable message indeed! (Public service announcement: you should probably run as far away from here as you can. We might just be responsible for the downfall of civilization.)
I could launch into a big diatribe on our stance between being childlike versus childish, but I feel pretty confident that anyone who has followed our blog or read our books or seen us speak knows where we stand. There are a couple of things I can take away from this. For one, we must be doing something right. Name someone who ever made history that was loved by everyone. Secondly, I can now see that this fight against Adultitis is not going to be an easy one to win.
Besides being greedy capitalists *wink, wink*, I believe that we at Kim & Jason are really in the permission business. It is my passion to let people know that not only is it more than ok to have fun and be childlike (not childish), it's actually a key to a healthy, abundant, and fulfilled life.
Which brings me back to Club K&J. I believe the main purpose of Club K&J is to provide an opportunity for childlike people to connect with other people just like them, and to let them know that they're not stranded on a deserted island. I want to build a community that inspires and empowers people to let that child inside come out and play.
Club K&J has evolved quite a bit over the years. Right now, the core features include a 25% discount from the Lemonade Stand, the quarterly Kim & Jason magazine (filled with articles and tips for escaping adulthood), and a continuously increasing treasure chest of exclusive content, such as bonus audio, video, and behind-the-scenes info.
The newly created Escape Events — our regularly scheduled opportunities for members to join together in doing something childlike — have the potential to become even more exciting as membership increases. As a wider number of people participate, we'll enjoy a wider variety of solutions to each challenge. It could even grow to the point where Club K&J members are sending in suggestions for future challenges and the media is covering the phenomena because so many people are having fun with it.
Scale is a big key. As things grow, we'll be able to more and more cool things. For instance, the monthly S.W.E.L.L. prizes and Escape Event awards will become more extravagant, maybe even including such things like cruise tickets or a year's supply of ice cream. We'll be able to look at creating our own social network, similar to MySpace or Facebook. With a bigger population of members, things like meetups in various cities become realistic. When Kim and I are somewhere for a speaking gig, I can see us inviting all Club K&J members in the area to meet us for desert afterwards. Another neat idea would be to organize Escape Adulthood themed-cruises, vacations, or outdoor festivals — almost like a Club &J annual convention!
This is my vision. I get excited just thinking about the possibilities.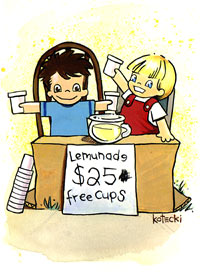 Now, if you're one of those curmudgeonly people against our "cockamamie age-faking strategies," I would politely invite you to exit stage left. We're not your cup of tea, and that's ok. But if you love what we do, and if this vision excites you, I invite you to support us by subscribing to Club K&J.
Gasp! — he's asking for money!!!
I understand that I am inciting the critics by asking people like yourself to plunk down $4.95 a month, but it's pretty simple if you think about it. You can't go very far in this world without money. To be able to create an organization I described above requires time and money and interested people. I'm perfectly content to be quite democratic about it. If people people like you see the value, buy in, and vote with their wallet, we can move forward. If they don't, Club K&J will fade away. If we don't do a good job of delivering value for people, they can unsubscribe at any time, as they should. Pretty straightforward stuff.
My belief is that Club K&J can be a catalyst to help us create a movement. Not a movement to amass any sort of power or to get any particular law passed. Maybe just a movement of people who join together in spirit and in action to prove to the naysayers that there is more to life than the cynicism, hectic busyness, and overwhelming stress that is typical of most modern lives. That we don't have to spend our lives in ruts or believe in the pessimistic definition of adulthood that the world gives us.
And that yes, it's possible to actually be childlike AND responsible all at the same time. What a concept.