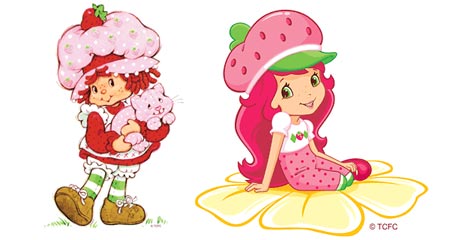 I'll admit it. My aunt Sarah (three years my senior) had a pretty vast collection of Strawberry Shortcake dolls (I mean action figures.) If I had to count how many times I begged her to play with them, I'd surely be up in the millions.
They were so cute…so colorful…so smelly (in a completely irresistible sort of way.)
And now American Greetings has decided to ruin Strawberry Shortcake and her sweet-smelling pals forever. In the old "Hey, let's give this classic character a face lift to appeal to the young kids" saw, Strawberry Shortcake now wears makeup, prefers fresh fruit to gumdrops, and has ditched her cuddly cat Custard for a — wait for it — cell phone.
Another classic character ruined by marketing folks trying to simultaneously appeal to kids (as if the only toys they can possibly enjoy must wear trendy clothes and chat on cell phones) and their nostalgic parents (as if any parent would feel nostalgic over a character that looks nothing like the one they grew to love.)
According to the New York Times story, even more carnage is on the way. Stay tuned for Care Bears with less belly fat, Teenage Mutant Ninja Turtles with more muscles, and maybe even a dark, Goth version of Tweety Bird.
Maybe I'm old fashioned, but I hate it when companies do this sort of thing. The new version never seems to be as good as the old one. And I think they undervalue a child's openness for fantasty and imaginary worlds. Not everything has to be "modern" to interest them. He-Man was a huge hit in our house growing up, and he dressed like a fashion-forward caveman. Come to think of it, when Strawberry Shortcake was popular in the 80s, it wasn't like society was populated with people wearing bloomers with green and white stockings. She didn't look like Cyndi Lauper or the Material Girl, and yet little girls (and at least one little boy who is secure enough in his masculinity to admit it) liked Strawberry Shortcake just fine.
What say you? Am I getting crotchety in my old age?
{democracy:5}