This week's Escape Plan challenge (aka our Tip of the Week) is: #10: Memory Maker: Create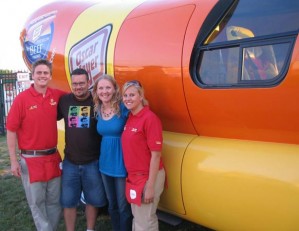 a memory today with someone you care about that will mean a lot ten years from now.
Last week Jason and I made one such memory. We had the opportunity to tour one of the Oscar Mayer Wienermobiles. Living in Madison, the official home base of the Weinermobiles, we've seen them around town a number of times. We have never had the chance to get a tour, though, from the official Hotdoggers (the team that drive and maintain the 27 foot long hot dogs on wheels). It was definitely a memory that Jason and I will share for well over ten years.
Summer is filled with opportunities to make memories. Whether it's a baseball game, a pool party, or just grilling out with friends, take the time to slow down to a speed that allows for memory making.


This was one of MANY memories we made in the last seven days. Club K&J members will soon find out why we made so many fun memories last week… stay tuned.
Share with us in the comments of the Escape Plan Blog what you do this week to create a memory that will make you smile in 2018.