The street upon which our office/shop is located is getting torn up right now. There are gigantic trucks digging holes, dirt everywhere, lots of loud noises and large tubes lying around waiting to be put underground. It's a little boy's dreamland, and Jason and I saw this firsthand. While walking into the office we came upon a young mom and her two-year-old son in a stroller. They were parked on the sidewalk in front of our shop staring at the construction site. I immediately looked in the direction they were looking, to see if something cool was happening, but all I saw was a couple of guys carrying their lunch boxes, getting ready to take a break… not exactly gripping. Then I looked at the little boy. He was literally sitting at the edge of his stroller, watching with great intensity and interest.
It was one of the purest examples of "delighting in the little things" (one of Jason's 8 secrets) I've ever witnessed. He was thoroughly enthralled by the entire site, never mind that the worker guys were on a break. He was into it. The coolest thing, though, is that the mom recognized this and took the time to sit there with him. I'm sure there were plenty of other places they needed to be. She didn't appear rushed. She wasn't over talking about what the workers were doing, she was simply standing there and allowing her son to delight. What a great mom!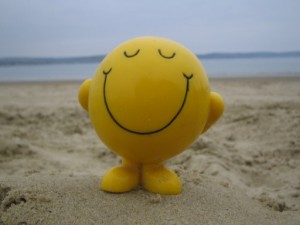 There are lessons to be learned in this little situation. The cliche "stop and smell the roses" only makes sense if you love the smell of roses. So, what's your "rose"? Is it a street full of dirt and trucks? (If so, you might want to visit this place.) Is it the taste of a home cooked meal prepared just for you? Maybe it's reading an e-card at work from a friend who took the time to write from the heart? Whatever it is, delight in it.
At the National Speakers Association Convention last week we were able to hear a fabulous speaker, Marshall Goldsmith. He is a regular columnist in Fast Company Magazine. Marshall took everyone on a journey many years into the future. He asked us to imagine that you're very old and on your deathbed. You're about to take your last breath. Right before that breath you're given an incredible gift- the chance to go back in time and visit yourself right here and now. You're given the opportunity to help yourself be a better person and to have a better life. What advice would your wise elder self give?
The room was completely silenced. Marshall shared that overwhelmingly the answers are always the same- Be happy now! Too many people, he explained, suffer from "Western When" syndrome (i.e., I'll just be happy when …)
You have to remember three words: Be happy now. Not next week. Not next month. Not next year. It's a great Western disease: I'll be happy when… When I get that car, status, money. But there is no when. That's a person waiting to die. Be happy now. Life is short.
Don't wait until this or that finally happens. Happiness if a choice and you need to find it in your present situation.
The boy in the stroller found it, and so did his mom.
How about you?