Saturday, August 23, 2008
10:00 a.m. – 4:00 p.m.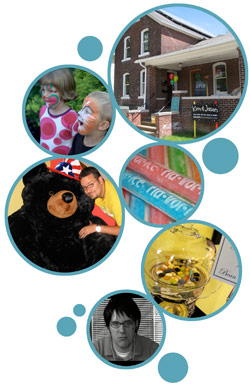 Stop by Kim & Jason HQ to treat any symptoms of Adultitis and join us for a day of fun and frivolity! Revitalize your childlike spirit and help a good cause, too! Here's some of the fun things we have planned:
• Face painting for kids and grown-ups!
• Meet Gary, our GIANT teddy bear!
• Sweet treats for only 25¢!
• Jelly bean taste testing!
• Meet the "Adultitis Guy!"
Our goal is to raise $1,000 for Care Net, a local organization that offers hope and help to young mothers. We're donating 10% of every single sale to the cause. Also, the face painting is free and the sweet treats are only a quarter, but every single penny you donate above and beyond that goes straight to Care Net as well. Stop by and join in the fun!
315 S. Baldwin St. | Madison, WI 53703 | 608-278-1880 (Map)