This week's Escape Plan challenge (aka our Tip of the Week) is #40: Sick of it Day: Take the day off. Do anything you want, but no work and no chores. Consider it a sick day or at least a "sick of it" day.
If you live in the United States, this one should be easy this week, since today is Labor Day. The reality is, however, that often times when presented with a day off our natural tendency is to fill it with things that "need" to get done… yard work, laundry, cleaning projects, etc. Do yourself and your loved ones a favor and let it all go. Enjoy the long overdue laziness of this final weekend of summer.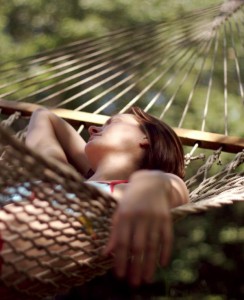 In our recent podcast for Club K&J members we shared a list of Five Tricks for Fighting Fall Frenzy. One of the tips was to "Turn the Other Cheek." Stop worrying about those dusty blinds, the lack of shine on your kitchen floor, and the pile of newspapers and magazines you haven't gotten to. Let it go. In the busyness of fall, maintain the necessities… clean clothes, a fridge with food, and bills that are paid on time. Everything else will have it's place in due time.
This is an important part of giving yourself time to rest and rejuvenate. So, if you have spent your Labor Day morning laboring… rebound quickly enough to enjoy the heart of why this day was created- to rest.
Share with us in the comments of the Escape Plan blog what you do this week to enjoy your "Sick of it Day."