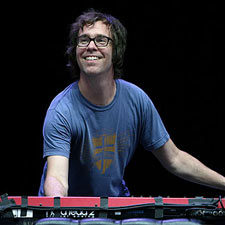 You might think that certain professions are immune from outbreaks of Adultitis. Circus performers, perhaps. Candy makers. Rock stars.
Au contraire, mon amie.
Any job, performed over an extended period of time, can become an effective breeding ground for Adultitis. Even the glamorous lifestyle of a rock star.
Lawyers and politicians may be among the first professionals that come to mind when you think of people who have the propensity to take themselves too seriously (a major warning sign of Adultitis). But I've gone to art school and spent a lot of time around creative types, and they are not immune to the idea that our entire civilization rises and falls on their creative contributions.
A fake album by singer-songwriter Ben Folds was recently leaked to the public. It was released by…Ben Folds. Why? To counteract Adultitis, of course. Here's a quote from Ben:
You see so many rock bands in the studio and it's serious, serious business," the 42-year-old singer-pianist tells Rolling Stone. "They got the making-of camera up their a** the whole time and they're on the BlackBerry the other half of the time. I just think that we all need to remember how to have fun."
Ben and his pals rented studio time with nine joke songs in eight hours as the goal. "The word 'fake' came up when we started doing it and it takes all the responsibility out," he explains. "You can just be free to write and let it go."
It's important to remember that it's possible to take your work seriously without taking yourself seriously. And no matter what sort of work you do — even work you love — a certain level of effort is required to keep things fresh. It doesn't take long for a job to turn to drudgery, and eventually a rut. And as Ellen Glasglow once said, "The only difference between a rut and a grave is their dimensions."
We're devoting this entire month to the theme of having more fun in the workplace and sharing ideas on how to shake things up and keep you out of ruts and free from Adultitis. Join Club K&J today to make sure you don't miss any of it!