In August Jason and I went to the National Speakers Association Convention. While settling in for a session, I found a familiar face in the second row and we started chitchatting. There was a guy in front of us typing away on his Blackberry, looking concerned. He soon turned to us and said, "I think I'm going to have to move to the back, in case I get a phone call. I don't want to have to walk out if I'm sitting in the front row." My new friend and I were on the same wavelength. I replied, "Why don't you just turn your cell phone off and let your voicemail catch your calls for the next hour?" He laughed and assured us he couldn't do that, as he needed to be available. My friend pressed him further, "Come on… one hour! You can't be unavailable for one hour?" After a few more minutes of peer pressure he surprisingly turned it off and enjoyed the session in the front row. Ironically, he ended up asking a handful of very insightful questions in the session, which leads me to believe he was getting a lot out of it… maybe something that wouldn't of happened had he been distracted by his phone.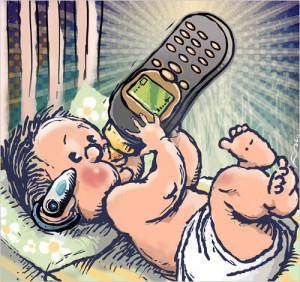 I'm not usually in the habit of badgering strangers about their cell phone use, but when the opportunity presented itself, I took it… and admittedly, enjoyed it. It's nearly impossible to live a balanced life if you are always (and I mean always) available.
I found a cool "picture article" on Forbes.com entitled, "How to Shorten Your Work Week." Many of you have read Timothy Ferriss' book, "The 4-Hour Workweek." So, the concepts of many of the tips aren't necessarily new, they simply go unpracticed.
One of the tips from the article is "Limit Your Availability."
Don't be readily available. If you are constantly at someone's beck and call, that person will expect to call on you whenever they need something. This leads to interruptions during periods of productivity and causes you to lose focus on the task at hand.
Another thing to keep in mind is how this trickles down to our children (just like Juvenile Adultitis). What are they learning from all of this modeling? Here's a link to an article about two adolescents who were admitted into a mental health institution due to their cell phone addiction.
So are YOU too available? Here are some warning signs that you might need to disconnect more often…
If you are one of those people who wear the ear piece for your cell phone, even though you are not talking to anyone.
If a missed call or unchecked voicemail bothers you until you get it taken care of.
If the thought of letting a call go to voicemail makes you sick to your stomach.
If you check your email more than five times a day.
If you interrupt a conversation with a loved one in off hours to answer a work phone call.
If you text someone else during lunch with a friend.
What warning signs have you noticed in yourself or others?