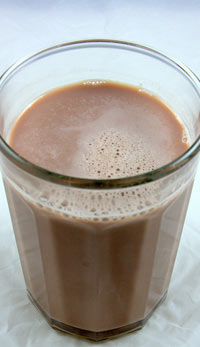 Move over, blood! In a move that is sure to outrage vampires everywhere, chocolate milk has been declared the official drink of Halloween.
This according to the Milk Processor Education Program. You know, the Got Milk? people.
(On a related note, I can also tell you it is the official drink of pregnant women looking to reach their required daily intake of calcium but are sick and tired of regular milk. Well, at least pregnant women named Kim.)
Of course, this is part of a marketing ploy designed to encourage moms to buy more milk for their kids. What I want to know is who made them the boss? How come they get to decide what the official drink of Halloween is? Maybe I've been inundated with too many campaign commercials, but don't we get a vote in the matter? Certainly there are a few other options that should be up for nomination.
What say you?
{democracy:6}
By the way, if you love chocolate milk but are too lazy to spend all your time stirring, you won't want to miss our Moo Mixer Supreme. It also makes a great gift for other lazy people in your life. Check it out in action in the video below: