Even in this "supersize it" culture, there's something magically childlike about seeing the world's largest pumpkin. Steve Connolly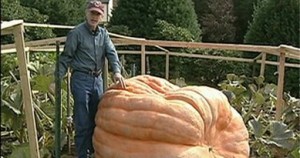 turned his hobby into a passion, setting a personal goal of growing the biggest pumpkin in the world!
How childlike is this?!
Apparently the conditions were "just right" this year in Sharon, Massachusetts, which helped to bring his record setting pumpkin to a whopping 1,878 lbs… and its still growing about 11 lbs. per day! Yikes! The coolest thing to think about, though, is that this very same pumpkin started from a seed just five months ago. Whew… I'm sure glad this baby of ours isn't growing at the rate. Although I do feel like I'm carrying around quite the pumpkin, I'm thrilled it's not the world's largest… or is growing 11 lbs. a day!
There are two lessons that jump out to me from this story.

1. It's important to set fun goals.
Life can be so darn serious. It seems every five minutes I'm hearing about the dow dropping or some other pending crisis. Yes, it's important to be responsible and set good goals to get through the challenging times. However, as we set our goals for the future, it's important to remember to interject some fun ones, too. Kids are setting fun goals all of the time… like loosing a first tooth, riding a bike without training wheels, and catching that first fish. The fact that Steve Connolly set the goal to grow the most ginormous gourd says a lot about him. That is simply a fun goal! So, what kind of playful and childlike goals can you set for yourself? It could be attaining something new, like a tandem bike to ride with your best pal. It could be the goal of throwing a surprise party for someone you love. It's good to think beyond the seriousness of finances, degrees, responsibilities, weight management (all important things, mind you!). Are you having fun with your goals?
2. When conditions are right amazing things can happen.
In a different summer this pumpkin would never have grown to be 1,878 lbs. It's good to remember that sometimes it's all about timing and forcing things will do no good. In fact, forcing things is a very childish action. The trick is knowing when to be persistent and when to let things go. For me, the answer is usually found in silence… listening to the small whispers from above. The key is to be aware and keep asking yourself if the challenge you are facing can be faced successfully now or in another timeframe when conditions are better. Are you forcing something that needs to be filed for later?
UPDATE: A special thank you goes to one of our Club K&J members from IL, Sarah Tipperreiter. She sent us the latest news about Steve's pumpkin…
A world record was not to be for Steve Connelly of Massachusetts after his 1600 pound pumpkin "sprung a leak." A half-inch crack in the base of the pumpkin disqualified him from the Giant Pumpkin Grower's annual weigh-off, and now Connelly has to decide the fate of his pumpkin (nicknamed The Beast From the East): sell it to a buyer from New York who wants to carve the world's biggest jack-o-lantern, or put on his apron and bake it into 5,000 pies. What would you do?