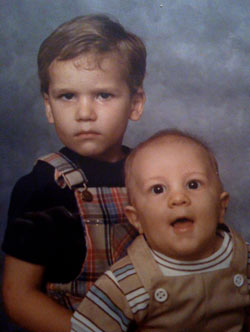 All my life, I've had a bit of a stubborn, semi-rebellious streak. This photo is a visual example. My mom hired a photographer to come to the house to shoot a portrait of me and my younger brother, Dan. Clearly, I wanted no part of the process. Considering this must have been the best photo Mom had to choose from in the entire collection of proofs, one can only imagine what a struggle that morning was. (Actually, Mom is the only one who doesn't have to do any imagining.)
That rebellious, countercultural side has always been there. Even today, I'll root for the team that all the analysts say have no chance to win the big game. When I cook, I can't make the recipe exactly they way the author suggests — I always have to add some sort of extra, personal touch.
You might think this rebellious nature got me into quite a bit of trouble as a young whippersnapper. Not so. You see, I was terribly shy and too afraid to try anything new. Fear and anxiety ruled the day, which kept me from stepping out and doing anything too drastic.
My stubborn nature and my unwillingness to settle for the status quo didn't really serve me all that well growing up. More than anything, it probably created a good bit of added aggravation for my parents. That side of me was more of a liability, until the Big Guy Upstairs stepped in. As I entered college, thanks to a retreat I was practically dragged to, I became more interested in getting to know God. He responded by giving me the courage to put some of those qualities — which had previously been liabilities — to good use. He helped me see the opportunities in new situations, and that no matter what happened, he had my back.
That courage and faith served as the fuel to start my own business without any experience whatsoever. To forgo the lure of security and a robust benefits package. To be willing to do the exact opposite of what most people would consider the prudent thing to do. My stubbornness, combined at last with a faith in God's promises, led me to refuse giving up on my dreams, even though many times over the past eight years, the situation looked bleaker than bleak.
The point of this post is this: God has already given you everything you need to be a success. Even the things you perceive to be weaknesses can be shaped into great strengths. You just need to be willing to let him step in and mold it.
These days, I'm just as stubborn as I've ever been (which should lead to some classic confrontations with this new little child that's about to take up residence in my household.) But that stubborn rebelliousness is only useful when I'm letting God in the picture. The times when my life is particularly stressful and bumpy are the very times when I am off going my own way.
When we hold too tightly to the steering wheel, with the attitude that we have it all figured out and we can do it all on our own, that's when we get stuck. That's when the spinning of our wheels leads us to believe that we have failed. But if we let go, summon a childlike faith, and surrender to the one who created us, we will be led down a highway boasting views that exceed our wildest imaginations.
Oh, and Mom, regarding that photo…this is one of those instances when we can all look back and laugh, right?