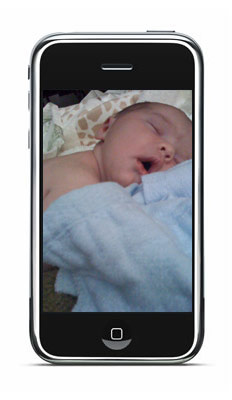 Sometimes technology can be a real pain in the keister. Like when my computer froze up right at the beginning of a speaking program I had last week. Not cool.
But the good side of technology makes me grateful that I'm living in these modern times, as opposed to the days of cavemen or pilgrims or hippies. In the last few weeks, my beloved iPhone has already proven to be my favorite tool of parenthood.
On the day Lucy was born, I had a lot of quality time with her because Mom was busy passing out due to low blood pressure. While Kim was getting taken care of and working on regaining her strength, I got to lounge around with Lucy. My iPhone was tucked into my pocket, and I was able to shoot the very first photos of her with one hand. Nice.
My iPhone has also served many other crucial purposes as well, including:
• Recording notes of things that I need to pick up at the store. Stuff like diapers, milk, and sleep.
• I had all my friends and family programmed into my Favorites list, which made the obligatory post-birth phone calls a breeze. I was also able to immediately email the photos I was snapping to Grandma and Grandpa. Eat that, Polaroid.
• I have had two speaking engagements in the past week, and my iPhone has served quite well as a mini photo album, allowing me to show off photos of Lucy to complete strangers.
• Kim and I have used our iPhones as fancy walkie-talkies to communicate from different rooms. When I'm in the bedroom taking a nap, Kim can call me from the living room if she needs help with something. It works a lot better than yelling. And no matter how tired I am, I'm pretty good at answering on the first ring.
• We've been having some minor feeding issues with Lucy, and the Calculator has helped me count up how many CCs of milk she's had over the course of the day, ensuring that she will hopefully someday grow taller than 20 inches.
• The alarm clock feature has been crucial in making sure I don't accidentally sleep until 2013. And the built-in timer helps me make sure dinner doesn't burn.
• I have used the Internet to search for the phone number and address of our family doctor, which I then promptly entered into my address book. As a favorite. Which is a sure sign that I am officially a father.
• And of course, the ability to send and receive email gives me the false sense of assuredness that I'm still keeping up on the work side of my life.
I guess you could say that my iPhone has developed into a modern day digital Swiss Army Knife of sorts. I'm not a materialistic person by nature, and they say money doesn't buy happiness, but I can't imagine how Adultitis-ridden my life would be without it.
By the way, this post has been in no way sponsored by Apple. But if anyone from Apple is reading this and would like to contribute to Lucy's college fund, give me a jingle.
I'll try and answer on the first ring.