With Christmas only five days away many of you may be feeling some extra pressure to get everything done in time. Are you overwhelmed? The reality is, you've got a lot going on right now. It's inevitable.
Don't forget, kids are also feeling the pressure. Remember those childhood fears that maybe Santa would put your name on the naughty list? Did he really see everything? December was always filled with warnings from my parents that "Santa's watching!"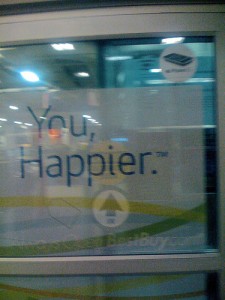 It's important to gain some perspective on the holiday, as we run from store to store finishing up the list. While on our maternity leave, Jason and I have had the TV on in the background here and there, as we feed and care for little Lucy. (Fun Fact: We've already changed over 100 diapers… and she's only thirteen days old!) There is a Best Buy commercial that I've seen about a bazillion times and every time I see it, I cringe. Apparently their new slogan is "You, Happier." They are selling the concept that if you buy one of their products you will, in fact, be happier. What a concept: "stuff" will make you happy. Yikes. What a trap, especially this time of year.
As you race to get it all done, remember that the materialistic aspect of the holidays is only there if you make it about the "stuff." Relationships, traditions, faith, laughter, and love… these are the components of a "happy" holiday, not a new DVD player or flat screen TV.
To me, when I think of living a happy life, I think it can be summarized by this awesome quote. I apologize that I don't know who said it…
"Life should NOT be a journey to the grave with the intention of arriving safely in an attractive and well preserved body, but rather to skid in sideways, chocolate in one hand, body thoroughly used up, totally worn out and screaming 'WOO HOO what a ride!'"
Enjoy your wild ride this week… and remember Santa's watching.