When my daughter wakes up from one of her dozens of naps throughout the day, she often wakes up hungry. No surprise there. But what's funny to me is how quickly she ramps up to 100% panic mode if she doesn't get fed in less than 15 seconds.
Wait for 45 seconds, and she's practically inconsolable.
Kim and I joke that it's as if she thinks we'll never feed her again. Ever. That she's already had her last meal but didn't realize it at the time and is now preparing for the worst by doing her best impression of a fire engine heading to a five alarm fire.
You'd think that after almost six weeks of regular feedings — daily, nightly, and ever so rightly — we'd start to build up a little bit of trust here. It's a little disheartening as a parent that your daughter carries on as if you just told her you were gonna throw her in a snow bank and drive off to some undisclosed location.
To no avail, we try calming her down by telling her that we're getting the bottle ready as fast as we can and we're not going to allow her to die of hunger. She never seems to understand what I'm saying to her, but maybe that's because she won't stop crying long enough to listen to what I'm saying.
Naturally, as soon as the precious milk hits her lips, she looks like a weary traveler eagerly lapping up water from a cool pond after a treacherous journey across a hot, dry desert. Ahhhh. Satisfied at last.
After each feeding, I feel like I have made my case as a dependable and trustworthy Dad, but the panic inevitably will begin again in a matter of hours.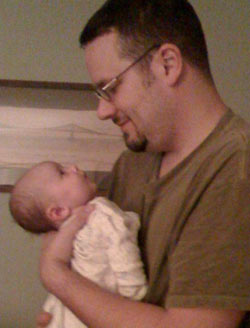 But then the other day, I caught myself in God's shoes. (He wears a size 72, by the way.)
I bet this is exactly how he feels with us silly humans, I thought. We cry out to him for help in a time of need. In our desperation, we completely forget all of the times in our past when he bailed us out, saved the day, and gave us exactly what we needed. For the moment, we are satisfied, until the next moment of crisis appears and we revert to thinking he'll dump us in a snow bank and abandon us for good.
He has told us, "I am the Lord, your God, who takes hold of your right hand and says to you, do not fear; I will help you." (Isaiah 41:13)
God is our "Abba" — our "Daddy" — and he promises he will always be there for us.
But, oh, how quickly we forget.
I guess I can cut little Lucy some slack. But what's my excuse?
So from now on, when Lucy goes into panic mode and I comfort her by reminding her that there is nothing to fear and I will help her, I will call to mind the fact that God is reminding me of the very same thing every time I slip into panic mode.
And maybe — just maybe — Lucy and I can make some progress on that front together.