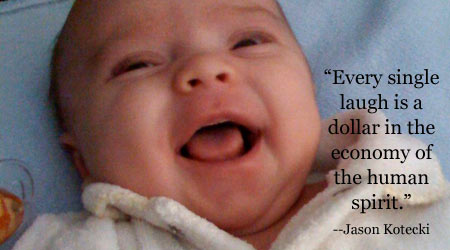 Lucy hasn't officially laughed yet, but she sure is doing a lot of smiling. One of our midwives told us that in her experience working with the Navajo people, there is a custom in which the first person to make a newborn laugh is obligated to throw the family a huge party to celebrate the occasion. According to their tradition, it's considered the moment in which the baby is fully present and "in the world."
I think that's pretty cool.
I've often heard of people rejoicing over baby's first words, first steps, and first day of school, but never have I heard a big deal made out of baby's first laugh. At least not enough to warrant a party to be thrown because of it.
It's a striking example of how little we value laughter in our society. If someone smiles and laughs much more than is deemed "normal," we often start to get a bit suspicious about them. Surely they must be some combination of air-headed, irresponsible, or unhinged, right? And yet stress continues to be a contributing factor to every single thing that kills us, from heart disease to suicide. It seems like the standard operating procedure these days — especially with a lagging economy — is to trudge through life with furrowed brows and steely determination. But now, more than ever, laughter should be celebrated.
Every single laugh is a dollar in the economy of the human spirit.
Meanwhile, I am reminded about how unspontaneous our celebrations are as adults. It's as if we're only allowed to celebrate something if the fine print on our calendar gives us permission. Amidst the doom and gloom peddled by the media, there is so much to celebrate. Sunny days and snow days, the accomplishment of a big project at work, and milestones small (like making it to work with all green lights) and large (like making your last mortgage payment).
Our war-torn, terrorist-threatened, abortion happy, and economically sluggish world needs more laughter. When Lucy laughs for the first time, the world be better because of it. And that seems like a good enough reason to throw a party to me.