This past weekend Jason, Lucy and I drove up to Minneapolis for a speaking program. We were on the road for about 600 miles total, and by the end of it we were relieved to be home. Lucy was an angel, so it wasn't our two month old who created the extra stress on the trip. The weather was fine, so it wasn't that. It was the other drivers. Jason and I identified a significant increase in distracted drivers. Some were swaying back and forth crossing the lines without even knowing it. Others were weaving in and out of lanes so haphazardly, they were endangering everyone around them, including themselves. Jason was sweet enough to drive the entire trip, and I could tell that all of the defensive driving was wearing him out.
People just seemed rushed, stressed, and self-absorbed. Adultitis was rampant. We determined that the overall hike in stress levels must be manifesting itself on our highways. It's a bit scary. So, what do we do about it?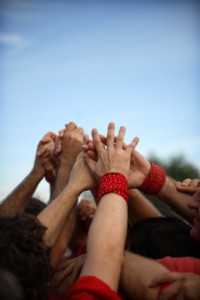 When I was teaching Kindergarten I was always surprised at how in tune my students were with my stress level. Without telling them that something was bothering me they would pick up on it and react with compassion and love. I would find little gifts on my desk, like homemade pictures of flowers or pine needles from recess (they knew I loved the smell of pine needles). These small acts of kindness would turn my frown upside down… they served as a wake up call, to help me snap out of whatever funk I was in.
As with most lessons in life, the kids had the solution… love, compassion, and unmatched kindness. The best thing we can do to help the overall increase in stress right now is to do the same. We need to stick together and help one another through this. Share your smile with strangers. Practice patience by holding the door for the next person behind you. Offer to let someone with less items sneak ahead of you while waiting in line at the grocery store. Make pleasantries with the guy next to you pumping gas in the cold. Share compassion with that person at work who tends to get under your skin. Pay the toll for the car behind you. Pick up some sweets for the break room.
Now more than ever we need each other, to help one another stress less and have more fun. Making these small efforts will do more good than you'll ever know. What will you do today to help fight the Adultitis around you?