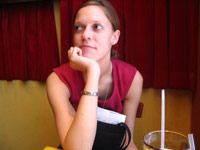 These days we're busier than ever. Unfortunately, all this busyness tends to pull us away from regular family dinners, which are terribly important to the health and happiness of your family.
You may be one of the scores of people who are struggling to find the time (and the money) to cook good, easy meals for your family. I'm happy to share with you a brand new web site called BudgetFriendlyCooking.com.
Katie is an everyday chef who cooks on a budget. She shares recipes and demonstrates her technique in a series of weekly videos. She even posts how much each meal costs per serving (Spicy Chicken with Mushroom Rice for just 57¢!). Her ideas will save you time and her recipes are sure to save you money, which will certainly go a long way to cutting down the stress and Adultitis in your life. Check out this episode on making yummy homemade snicker doodle cookies for just seven cents apiece:
A video used to be embedded here but the service that it was hosted on has shut down.
Learn more at BudgetFriendlyCooking.com!