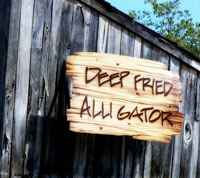 During a recent trip to southern Louisiana, I tried me some deep fried alligator.
It tasted like chicken (with a hint of fishiness.) I enjoyed it immensely.
I also tried frog legs for the first time, and some warm, delicious beignets from Café Du Monde in New Orleans. We had a program near Lafayette, and tacked on an extra day to explore The Big Easy. I'm not sure which was better: the people or the food. Our hosts were friendly, gracious, and Cajun to the bone. And the yummy shrimp, jambalaya, gumbo, and red beans and rice still has my tummy smiling. It's a close call, but both made for a wonderful experience.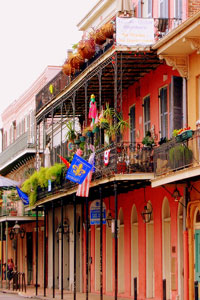 In exploring the region, it was quite refreshing to see such an exciting pocket of individuality. The French roots, intimate streets, colorful architecture, and old ironwork of New Orleans — not to mention the jazz sounds and cajun flavors filling the air — make it one of the most unique places I've visited so far.
I've done a fair bit of traveling across this great nation, and a lot of it blends together in a homogenous stew of sameness. Sadly, a majority  of America has succumbed to a cookie cutter landscape littered with Applebee's and Best Buys.
It makes me think of life. A majority of people I know live very similar kinds of lives. Similar homes, similar lifestyles, with similar cars in the garage and kids involved in similar activities. There's nothing wrong with it, of course. Just like there's nothing wrong with lunch at Applebee's. It's pretty good, dependable, and lacking in surprises.
But other people I know break the mold. Like The French Quarter, they have a style and sensibility all their own. Sometimes they make choices that go against the grain. They can't be boxed in to any one stereotype. They see life as a great adventure, not a paint-by-numbers exercise.
They also experience life with less Adultitis.
So which side does your life most resemble? Everybody likes to think they're so different. But they're different just like Applebee's is different than Chili's. Is your life a similar kind of "different" compared to your neighbors or co-workers? Or is your life a breath of fresh air, standing out as truly unique? Do you ignore the so-called "rules" set forth by the media, celebrities, and neighborhood soccer moms? How often do you take the road less traveled?
Hamburgers are tasty, satisfying, and very popular. But maybe you should try some alligator once in a while, if you know what I mean.
Just some food for thought.