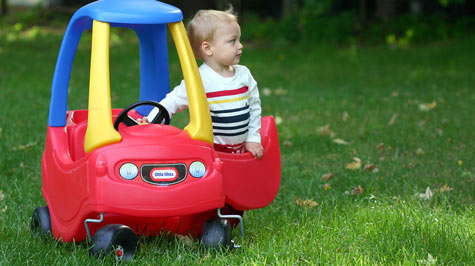 Wanna guess what the best-selling car in America was last year? Something by Honda? Or Toyota?
Nope.
At 457,000 units sold, the Little Tikes Cozy Coupe outsold every other car in the U.S. in 2008. And I hear it gets great gas mileage.
Now, I have super duper secret sources that tell me that — I shouldn't even be telling you this — the auto industry is in trouble. You might be saying to yourself, "What? How can this be? How does he know these things?" Trust me, I'm a blogger, we have our ways.
So, yes, the auto industry is a mess (and as usual, Uncle Sam has done his part in making matter worse.) The bestseller from Little Tikes may be just a toy, but I believe that automakers can improve their fortunes by taking some cues from the Cozy Coupe.
1) Make 'em unique. No, really.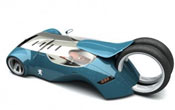 Auto shows are cool for one main reason: the concept cars. A host of shiny, exciting prototypes are put on display, and everyone ogles the futuristic eye candy. It's as if George and Jane Jetson decided to showcase all the cars they bought from the proceeds they earned from cashing in all their Google stock.
The problem is that the concept cars never show up. Instead, the car company introduces a boring lump of steel that looks eerily like last year's model. Bleh. Talk about a letdown. I think in order for a car to be allowed to make it into production, it has to pass what I call the "Squint Test." If you squint your eyes a bit, about 95% of the cars on the road today look EXACTLY the same. The Squint Test goes like this: if you squint your eyes and can't tell the difference between your car and a Civic, it's back to the drawing board time.
2) Make 'em with a little personality.

Some of the Cozy Coupes actually have faces on them. While I'm not sure turning America's highways into a scene from Pixar's mega hit Cars will ever fly (although isn't it kind of fun to imagine?), there's something to be said about building in a little personality. Face it, the Toyota Camry screams, "I'm plain, practical (and a little boring.)"
Now think about the Ford Mustang GT. The '57 Chevy. The Mini Cooper. And yes, even the Hummer. For better or for worse, these vehicles come standard with personality. We need more of that. It's the exact reason I love that I hate the 2004 Toyota Scion xB. I hate the look of the thing, but I love that they made it so I HAD to have an opinion about it.
3) Make 'em fuel efficient.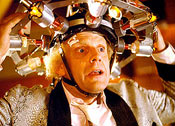 The Cozy Coupe operates on pedal power. Not the most effective way to go from 0 to 60 in 6 seconds, but it's as green as it gets. I'm not for big government stepping in and pushing mandates; innovation doesn't work that way. But getting off of fossil fuels is a GAME CHANGER in a bajillion different ways. Be it hydrogen, nuclear, or Doc Brown's garbage-fueled Mr. Fusion reactor, there is a huge pot of gold waiting for the company that can design a fast, ridiculously fuel efficient car that doesn't look like a shoe.
4) Make 'em durable.

The Cozy Coupe is made mostly of plastic. They last just shy of forever, and kids are not known for taking it easy on toys. Saturn was on to something with its dent-free body panels. Body shops might disagree, but I think it would be awesome if we could design some cars that could bounce off each other in a collision with little to no damage. I'd even settle for one that wouldn't dent when bumped by a car door in the supermarket parking lot.
Just the act of writing this post got my playful juices bubbling, and I'm not even in the car industry (which may actually be the key.) How many more neat innovations could be generated with a little childlike creativity? Here's a few I came up with:
What if you could push a button to change the car's color? Or what if it changed to reflect the driver's mood?
What if cars came in stripes, polka dots, camouflage or paisley?
What if the body was translucent so you could see all the working parts underneath?
What if every single car was one-of-a-kind? They can do it with shoes, why not cars?
What if it was built to accommodate widgets? You could customize the dashboard controls, headlights, stereo. I know, mechanical types can pretty much do this now, but what if it was designed so the average Joe could just take the old one out and plug the new one in.
I don't know, maybe I'm an unsophisticated rube, ignorant of how science, assembly lines, and the auto industry really works. Or maybe that's exactly the type of thinking the auto industry needs right now.
* * * * *
Think this was a snazzy post? If so, I'd appreciate it if you'd Stumble it, post it on Digg or share it using your social media tool of choice. Just use the "ShareThis" link below.